Not unlike a major motion picture, our wine has been three years in the making -- from planting our vines to harvesting the first fruit to fermenting, aging and filtering the wine and, finally, bottling our first wines!  Last week, with the help of friends, we bottled 930 cases of Meritage, Merlot, Cycle 76 (aka Pinot Gris), Rivanna Red, Rose, and Viognier wine.
I want to start at the end and say thanks to our friends, Gary, Pam, Rick, and Stephanie for showing up early in the morning and learning the process with us through the day.  Thanks also to Matthieu and Jason at King Family Vineyards and the guys from Hunter Bottling Company for being our guides.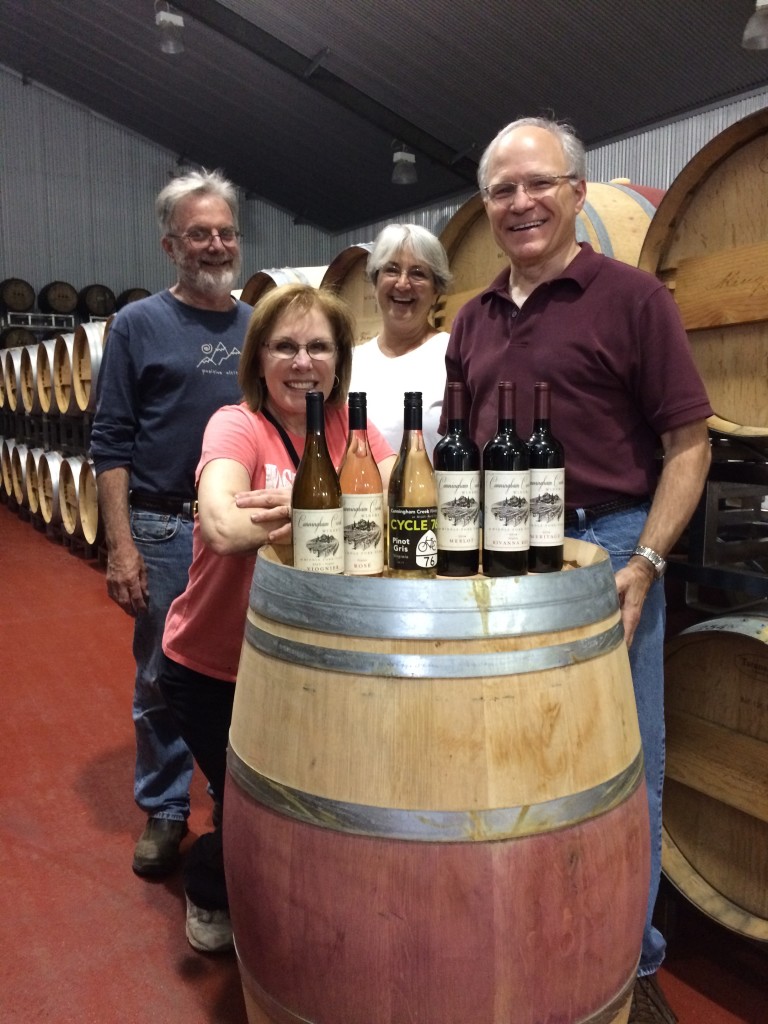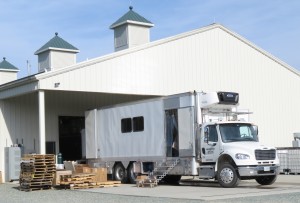 The Hunter Bottling Company truck is amazing.  It is a self-contained mini-factory that cleans, fills, corks or caps, and labels bottles at an amazing rate and then expels the filled cases down a conveyor belt.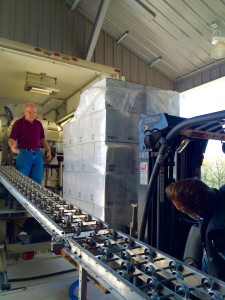 As you probably guessed this doesn't happen without human assistance.  Pam, Stephanie, Bruce, and I were the ground crew while Gary, Rick P. and Rick H. manned stations on the truck.  The process begins and ends with cases on a pallet.
Job #1 is lifting each case of empty bottles off the pallet and setting it down upside down on the conveyor belt to begin the bottles journey. First thing, it's cleaned with a jet of nitrogen and then it goes to the filler.
The clean bottles are then filled with wine and either capped or corked, depending on whether or not the wine was fermented in oak.  The Rose and Cycle 76 (aka Pinot Gris) were fermented and aged in stainless and capped.  The Merlot, Rivanna Red, Meritage, and Viognier were fermented and aged in oak and corked.
This slideshow requires JavaScript.
After filling and corking/capping, comes labeling.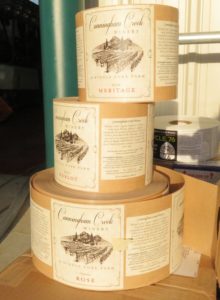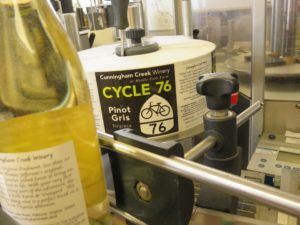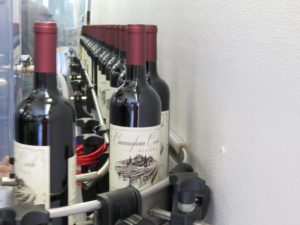 Once labeled, the bottles travel down the belt to humans again.  Two sets of nimble and careful hands place each bottle back in the case and the last machine tapes it closed.  As you can see in this video, Gary, Rick and Rick worked hard and as this picture shows, they also had fun.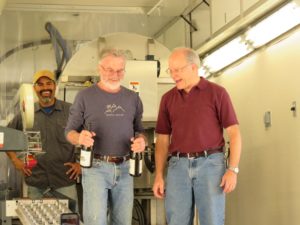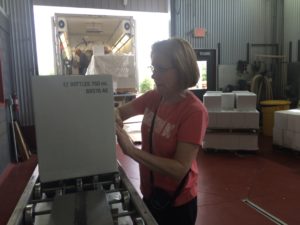 After being taped, the box travels down the conveyor belt to more sets of quick and nimble hands.  This time the task is to label the box and place it carefully back on the pallet.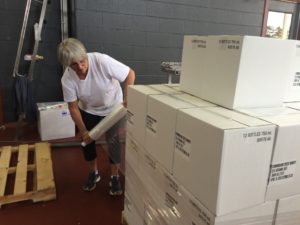 Finally, its wrapped in plastic and ready for transport.  It turned out that this job required special expertise and became the sole responsibility of Pam.
We sampled the Rose and Cycle 76 and gave it a thumbs up.  The reds go through a "bottle shock" period and need to "rest" for about a month before we taste them, so we are trying to be patient.   But, they will be ready for tasting along with our Strawberry Wine at our Strawberry Fest on May 21.  Hope to see you there!