We finished our first harvest—hooray!
Before I tell/show you more about the harvest, I want to thank my "happiness engineer" (this is the title they use) at WordPress.com for telling me about an app called EXIFPurge that removes orientation metadata from photos. It's now an added step to run my blog photos through EXIFPurge before loading them, but no more upside down/inside out photos!
About the harvest...
We harvested seven varieties which totaled 23 ½ tons of grapes from our vineyard and two vineyards we lease. Depending on the variety its now in barrels or tanks at King Family Vineyard transitioning from grapes to wine.
Harvesting is a truly tactile process—drawing heavily on sight, taste, and odor.  I can't capture the taste or smell but I've got some great photos that will give you a sense of the whole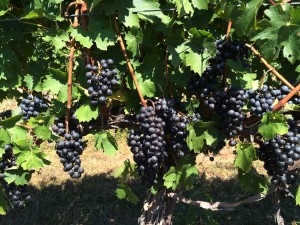 process.  We harvested four of the five red grapes that are used to make a Bordeaux blend.
Cabernet Franc (left)
Cabernet Sauvignon (right)
Merlot (left)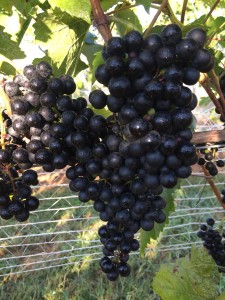 Petit Verdot
We also harvested three whites.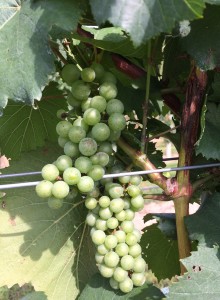 This is young Chardonnay several weeks before harvesting.
Pinot Gris is the gray white wine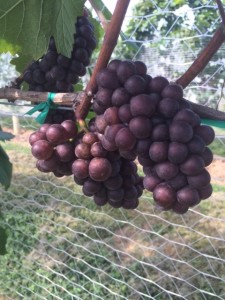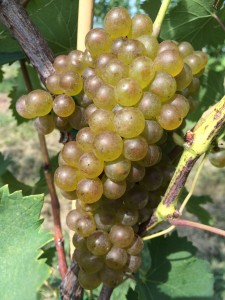 Viognier is the considered the white wine of Virginia.
In addition to great grapes, we discovered you need the help of fabulous friends and family to get the harvest in.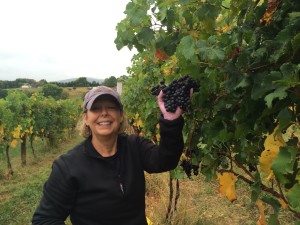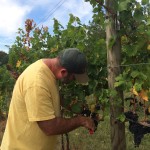 We had some beautiful weather for harvesting and also some very wet days.  Can you identify the people under the rain gear?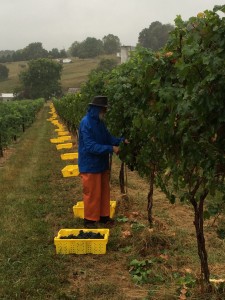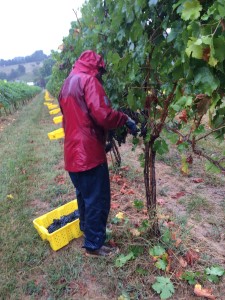 After harvest, the grapes were transported to King Family Vineyards and stored in the cold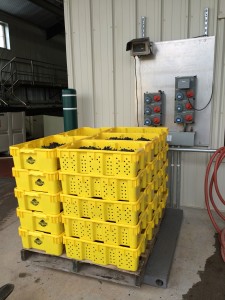 room overnight.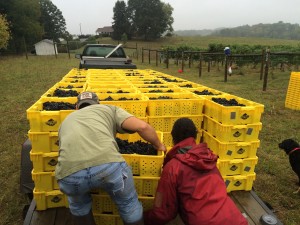 The next day each pallet was weighed and then sorted.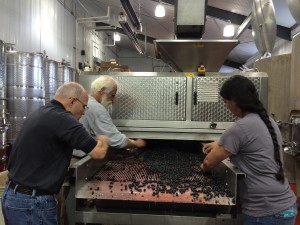 Happily, we were fortunate to also have fabulous friends and family to help process the grapes at the sorting and vibrating tables.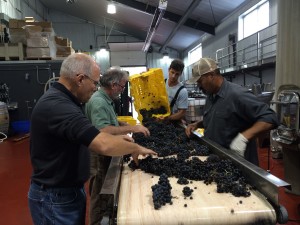 So, what's next? First, Matthieu and Bruce will turn all those wonderful grapes into incredible wine.   Then, we'll share them with you at Cunningham Creek Winery (at Middle Fork Farm).  We plan to break this month -- stay tuned!