We had this amazing moment two springs ago when we realized we had transitioned from Middle Fork Farm to Middle Fork Farm and Vineyard.   Now, we are one step closer to becoming not just a farm and vineyard but also a winery!
It takes three years for vines to produce a healthy harvest and 15-18 months of barrel aging to make a good red wine. As our first vines were planted in 2012 and our goal is to open our tasting room in the spring of 2016, we had a challenge. The solution was to buy grapes—Petit Verdot, Merlot, and Cabernet Franc, and contract for custom crush at King Family Vineyards in Crozet. At King Family, Bruce is working with expert winemaker, Matthieu Finot, to make a Bordeaux blend as well as individual varietals.
A couple of weeks ago, equipped with lugs, needle nose snippers, and gloves Rick, Bruce and our crew got their first picking experience. With the help of the vineyard owners, they harvested about 700 lbs of grapes.   They opted to sort as they picked so it took about 3 hours.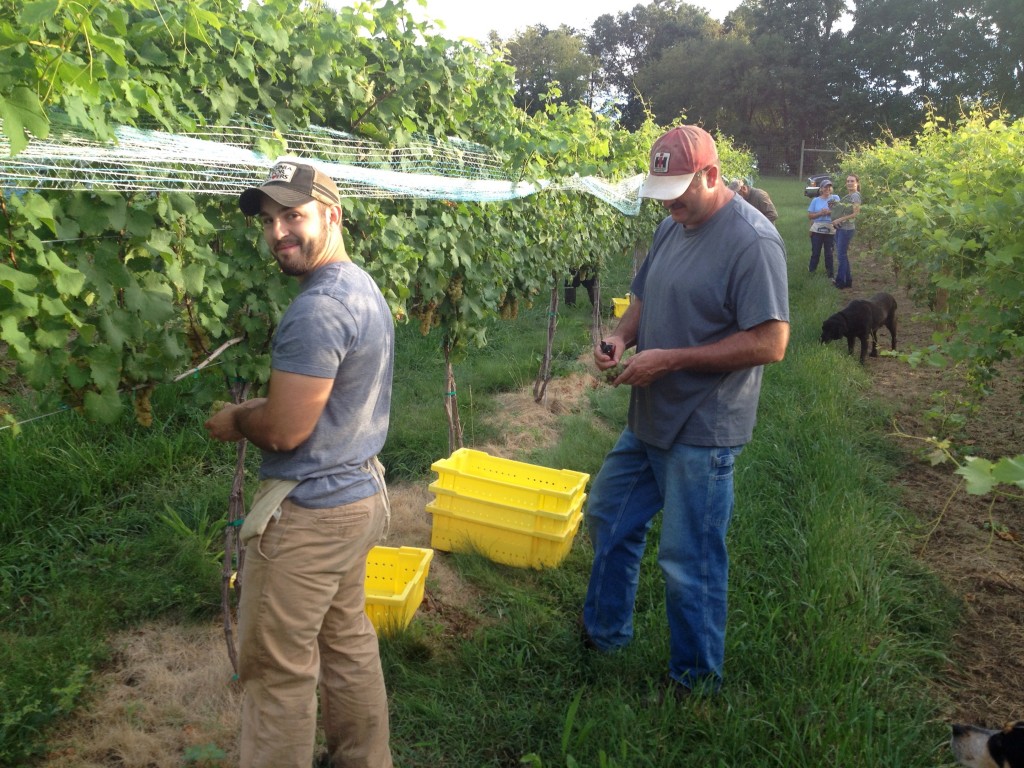 Bruce compared it to taking ornaments off a Christmas tree—there's always one more ornament/cluster hidden among the branches. He also noted that it is definitely not unskilled labor as you have to be able to distinguish between ripe, not yet ripe, and rotten fruit while lifting the bird netting and moving down the row at a reasonable pace.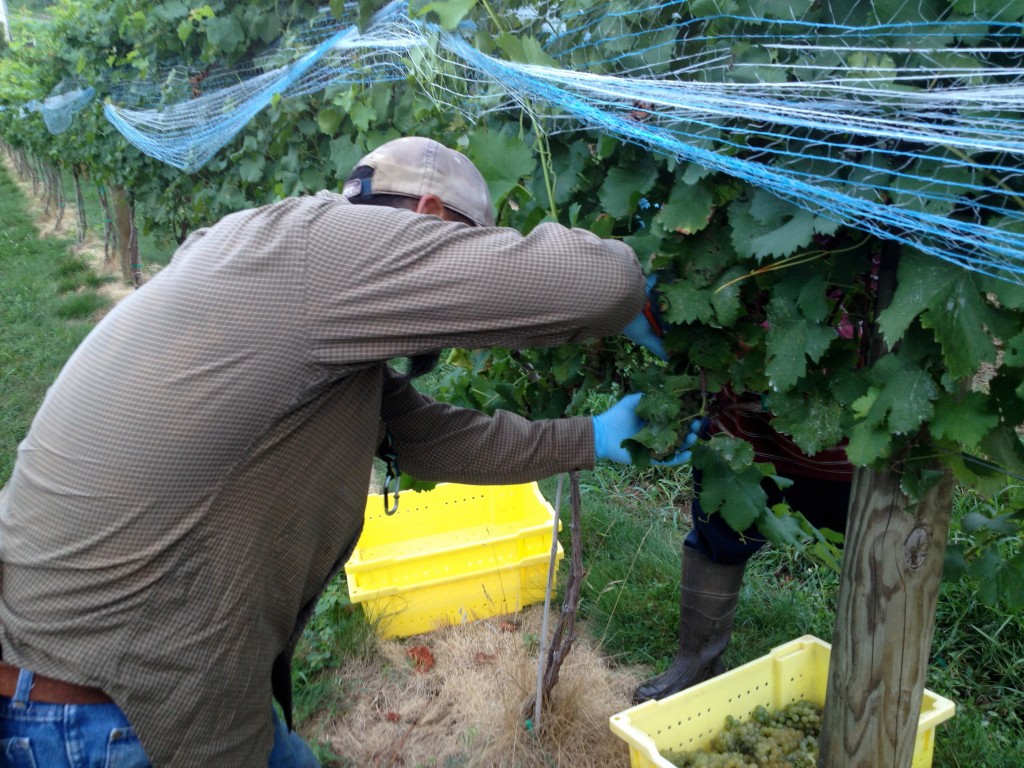 To begin, you grab a cluster and check for ripeness and a deep color (not green). Ripe healthy grapes are snipped at the top of the cluster and dropped in a lug. Grapes that are rotten, not yet ripe, or pierced (in this case by wasps) are rejected and either left on the vine or thrown on the ground.   The lug is kicked forward until full, somewhere between 20-30 lbs, and a new lug is started.   Full lugs are left for later and stacked in the pickup truck to make the trip to the winery, where they get sorted again.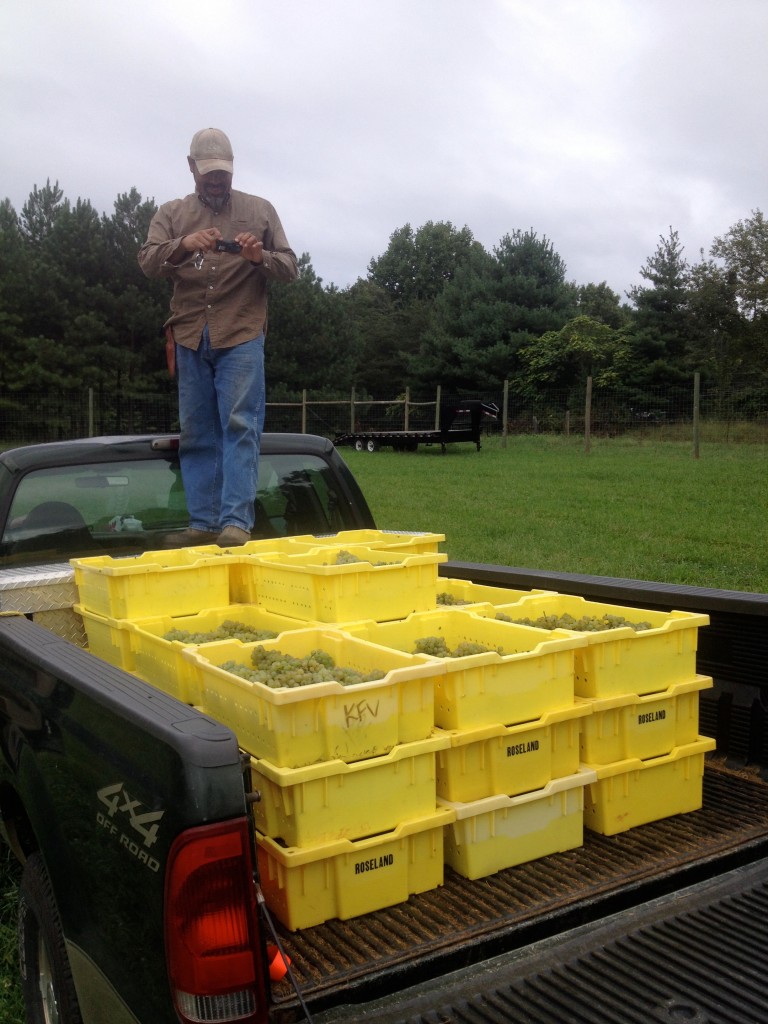 We also purchased grapes from California due to the grape shortage in Virginia. The Merlot and Cabernet Franc arrived last week and Bruce, Rick, daughter Beth, friend Nancy, and I sorted. If I had to pick one word to describe the experience, it would be sticky!
Matthieu, Bruce, and Rick set up the equipment and we went to work.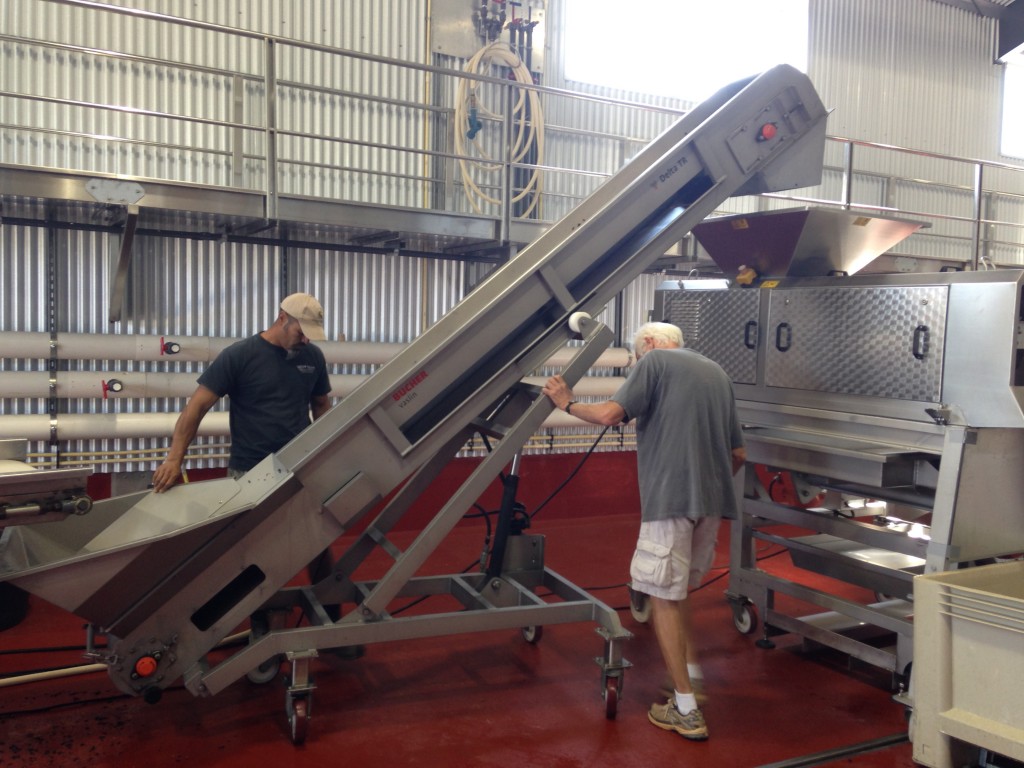 Bruce unloaded the fruit, Nancy and I sorted for leaves and sticks (except when I was taking photos).  Initially the sorting table was going a bit fast for our novice hands so Bruce slowed it down. But then Matthieu came by and sped it up—oh no! Nancy and I both remembered Lucy and Ethyl at the chocolate factory and felt their pain. If you haven't seen this episode of I Love Lucy, it's a lot of fun. Check out https://www.youtube.com/watch?v=8NPzLBSBzPI.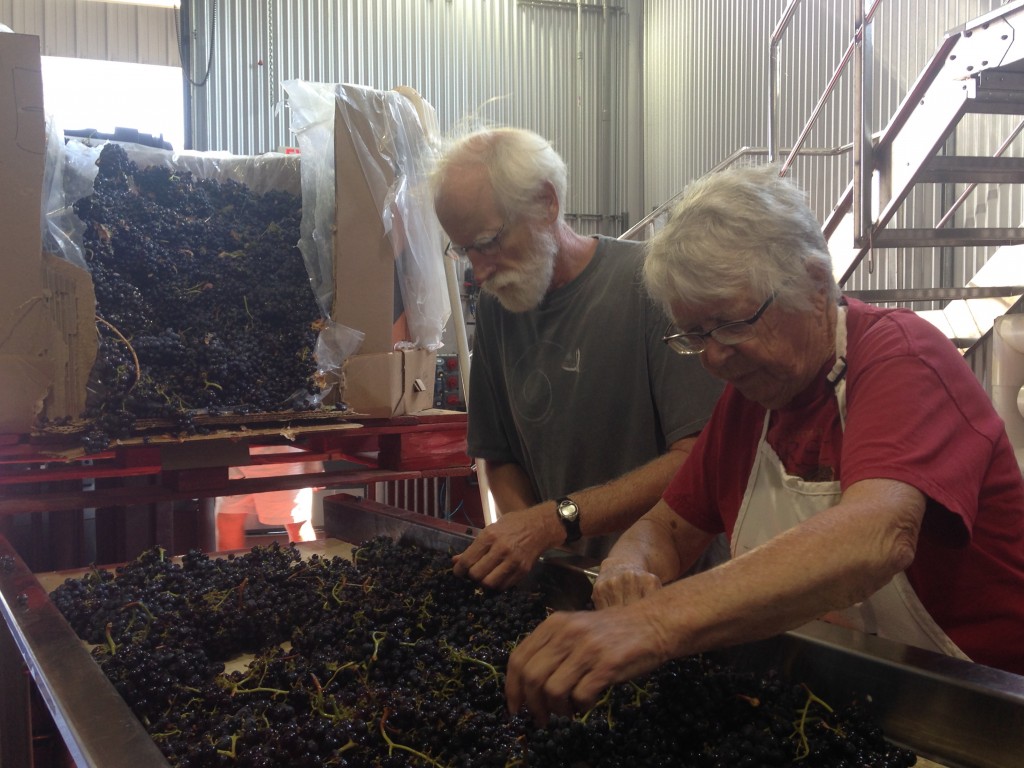 Next, it went by a conveyer belt to the destemmer, which shot the stems into a bin and the fruit fell out the bottom to a vibrating table.
Beth and Rick worked the vibrating table, removing  any stems and nub grapes left by the destemmer.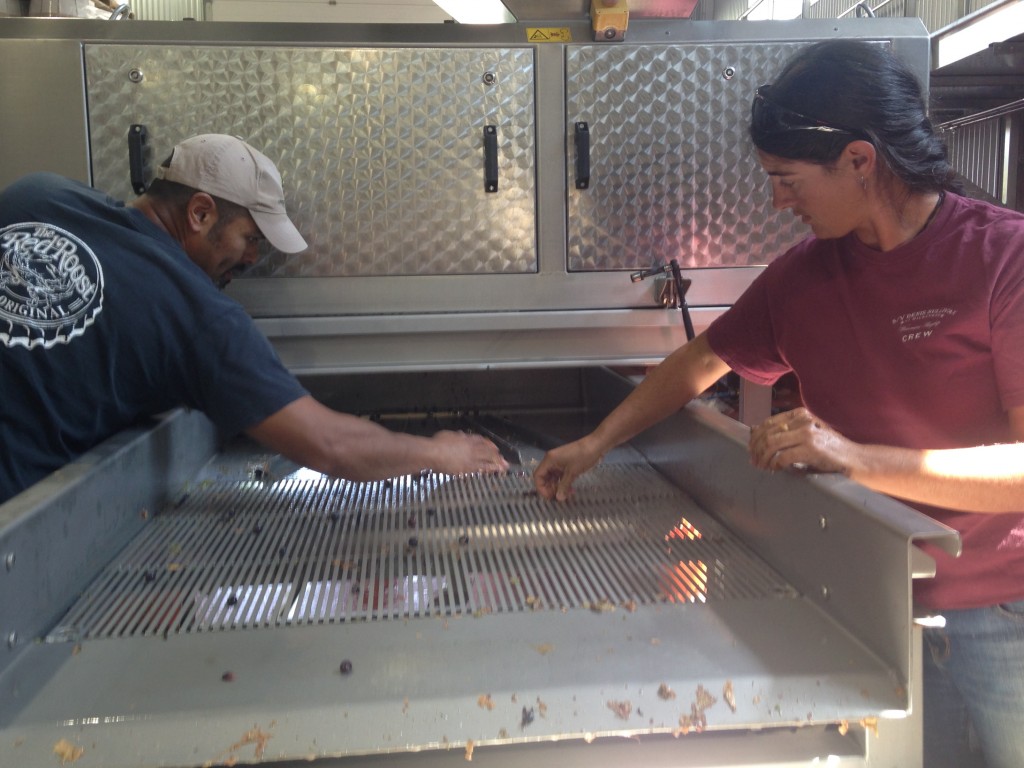 The clean grapes traveled by another conveyor belt to a bin where they'll ferment and become wine.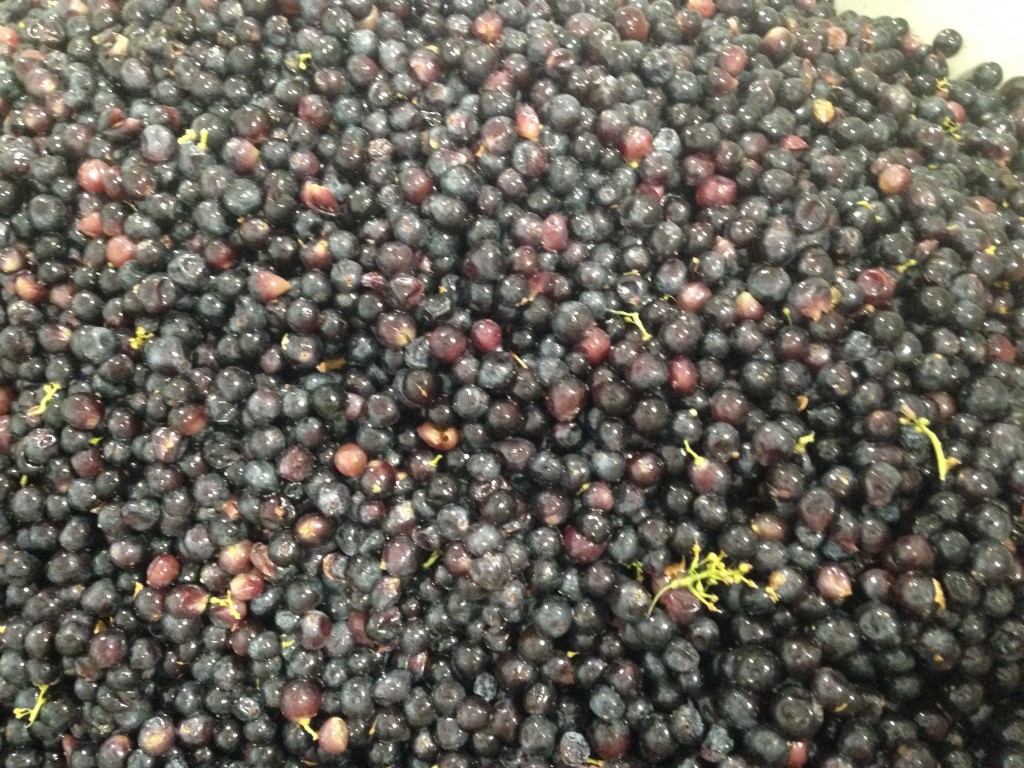 We've got more picking and sorting to do.  Next time we sort, we know to wear long sleeves, pants, and comfortable closed shoes—grape juice has a way of getting everywhere!
The next day, Bruce and Beth bottled the strawberry wine.  Bruce added a wine tannin so it's a dry fruit wine and quite tasty!