We are VDACS approved! Our spreads can now be sold at stores in Virginia! Sara, Pam, and I spent a long, productive day at the Prince Edward Cannery (http://www.co.prince-edward.va.us/cannery_index.shtml)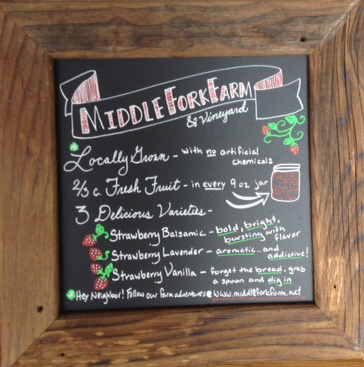 In addition to receiving VDACS approval, we made lots of strawberry spread. At the end of the day, we were tired but very pleased to load up 347 jars of strawberry balsamic, strawberry lavender, and strawberry vanilla.
We got an early start with coolers full of 5 lb bags of defrosting strawberries as well as sugar,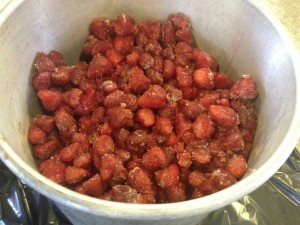 lavender, balsamic vinegar, vanilla beans and Pam's amazing industrial immersion blender. It could easily be mistaken for a jackhammer. Sara and I were a bit intimidated by it, so there was no question that Pam was responsible for pureeing all the berries.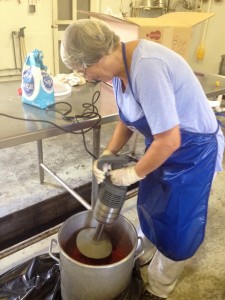 Once we unloaded at the Cannery, Emily did the general orientation and began the paperwork process. Next, Chris, my VDACS inspector, went through an overview of the inspection process. Then we donned the very stylish hairnets and plastic gloves provided by the Cannery and got to work.
Sara and Pam were the best helpers I could have had—besides canning experience, each had specialized experience relevant to our task. In addition to operating the industrial size blender, Pam's experience in a commercial kitchen meant she immediately knew how to use the tools, follow the necessary procedures for cleanliness, and keep the flow going.   Sara's USDA experience paid off when it came to completing the paperwork, documenting the process, and generating our batch code system. Thank you Sara and Pam! My job to actually make the spread and answer questions posed by Chris, was from my perspective the easiest.
Sara and Pam were as impressed with the giant steam kettles and 2 minute dishwasher as I had been on my earlier visit. At canning time, the thermal gloves were also a bonus. All of us liked the clean look of our new straight-sided 9 oz jars and appreciated the timesavings generated by the single piece lids.
After making the balsamic spread and before making the vanilla spread, we had a very enjoyable lunch (and caffeine) break at the Fishin' Pig in Farmville (http://www.fishinpig.com/). By the time, we thoroughly cleaned the Cannery, packed up our boxes, and drove home it was a 12-hour day!
We still have to label all those jars, with our beautiful new labels, but that is getting done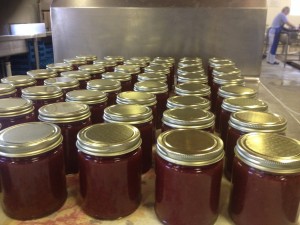 slowly on an as needed basis. We discovered that placing a rectangular label on a round jar can be challenging, so Bruce designed a jar holder to assure that the labels go on straight (old engineers never stop engineering, they just become farmers and make everyone's life easier).
In addition to the Fluvanna Farmers Market and Farmers in the Park, you can now buy our spreads at the following locations:
Great Harvest Bread, Charlottesville (http://greatharvestcville.com/)
Jefferson Pharmacy, Palmyra (http://jeffersondrug.com/)
Salt Artisan Market, Charlottesville (http://saltcville.com/)
The Bakery, Farmville (http://www.thebakeryfarmville.com/)