We had another great day at Williams Sonoma this past Saturday. Erica and her crew, as well as the customers are total foodies, which makes sharing our spreads a pleasure.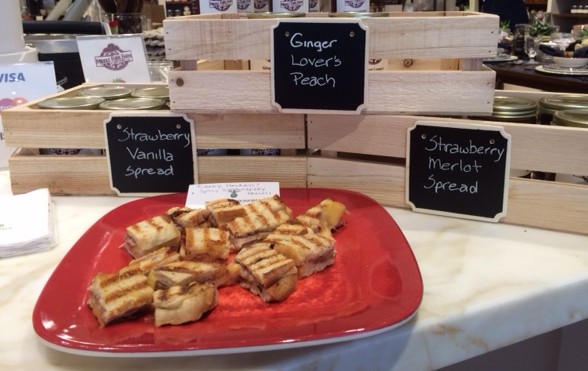 Once again, we made our turkey, havarti, and spicy strawberry Paninis. These were a big hit last time and we love them, as well.  Also, we're trying to highlight ways jam can be used with savory foods—there are so many possibilities!   I also admit to loving the Breville Panini maker at Williams Sonoma and wanting to use it again (I promised Erica I wouldn't hide it in my bag when we left).
But, if you're like me and you don't have a Panini maker at home, two frying pans work just fine or any non-stick surface to weigh down the sandwich.  Also, if you don't want the turkey (or ham), jettison it and make a "grown-up" grilled cheese with your favorite cheese and lots of spicy strawberry spread. Or, if you're gluten-free, substitute a corn tortilla and make a "grown-up" quesadilla.
OK, let's talk about dessert.  We made two.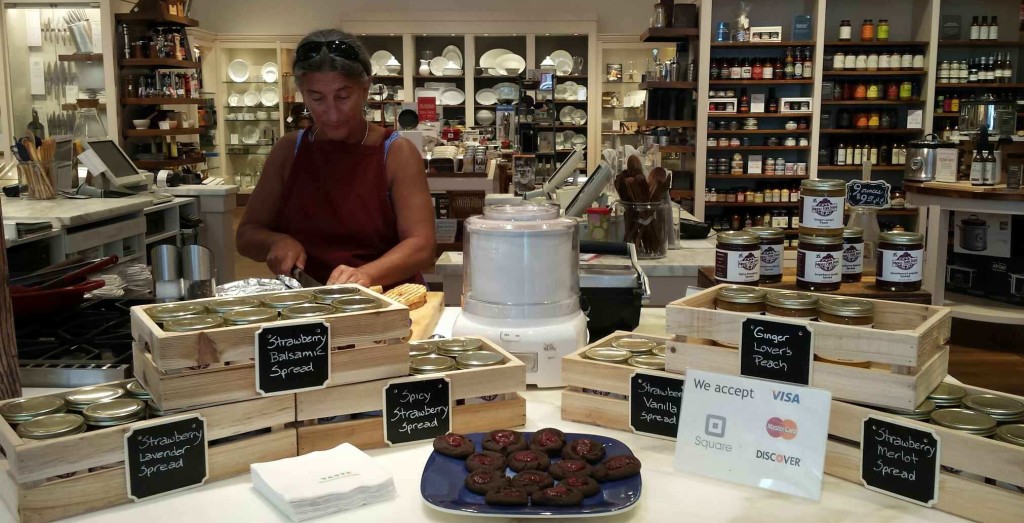 We made strawberry lavender ice cream with dark chocolate chunks—yum! For this we used the sweet cream base #2 recipe from Ben and Jerry's Homemade Ice Cream & Dessert Book and added a jar of strawberry lavender spread and a bar of 72% dark chocolate roughly chopped. At home, I would also add nuts (walnut or pecan) to this and maybe put fresh fruit or hot fudge on top. Or, just eat it plain right from the ice cream canister.
For our 2nd dessert, we served chocolate thumbprint cookies with strawberry vanilla spread. If you like chocolate and fruit, these are for you. Any of your flavors would make a delicious filling with the possible exception of spicy strawberry. We adapted the cookie recipe from Pinch of Yum.
Chocolate Thumbprint Cookies with Strawberry Spread
Cream 1 c + 2 T softened unsalted butter and ¾ cup sugar.  Add 1/3 c cocoa (we used King Arthur Double Dutch Dark Cocoa)
In a clean bowl, combine 2 c flour, ½ tsp salt, ½ tsp baking soda, & 1 tsp baking powder
Add flour mixture to butter mixture and combine
Roll into small balls. Make a thumbprint and fill with jam (the yield depends on the size ball you make. Ours were pretty small and we got about 40 cookies).
Bake at 3500 for about 9 minutes, depending on your oven and how soft/crisp you want them
Let cool completely. Store in the refrigerator.
As you can tell, it was a tasty event!
In September, we'll be back at  Williams Sonoma and plan to share some new fall recipes. If you're in the area, I hope you'll join us!  In the meantime, we're always looking for delicious new recipes that use our spreads so,  please share them with us and we'll post them.