A lot has happened on the farm since my last post, so here's an update on the goats, strawberries, vines and bees.
Quizno, our buck,  was happily reunited with the does at the end of the June. Sara says that not only was Quizno elated but the ladies were pretty darn happy to see him, as well. They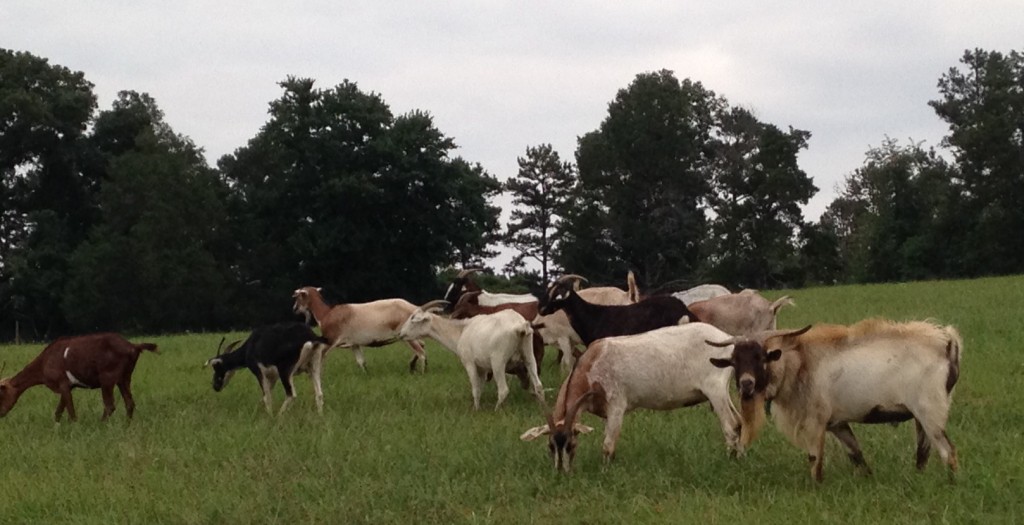 are now enjoying the ample grass and forage in their new field and, hopefully, all or some of the does are already carrying their next offspring.  The average gestation period for meat goats is 150 days, which means we should start having kids on the ground around December 1 (hopefully, we won't have an arctic blast during kidding as we had this year!).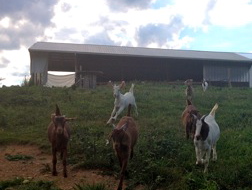 This year's crop of does are continuing to grow (especially their ears) and entertain us with their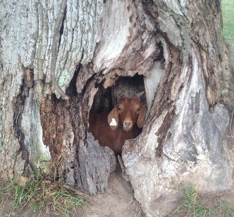 antics. You can see Apple's ear taking off as she and her friends race down the hill to greet Sara (hum, does Sara have treats in her pocket?). Annabeth is the adorable kid playing hide and seek inside the tree and in the next photo, her friend, ShyGirl, is trying to squeeze in with her.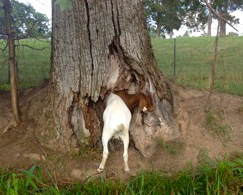 Snickers and Doodle are continuing to work as a team to round up the kids for us. This is tremendously helpful when we need to catch them for worming, hoof trimming, or any other reason. Check out this very short video on YouTube at https://www.youtube.com/watch?v=U5iR4oBrgWU&feature=youtu.be. Once they have them corralled Snickers patrols the perimeter like a herd dog should, while Doodle prefers to pass out kisses to any goats that are willing. It's a tough life for dogs and goats at MFF!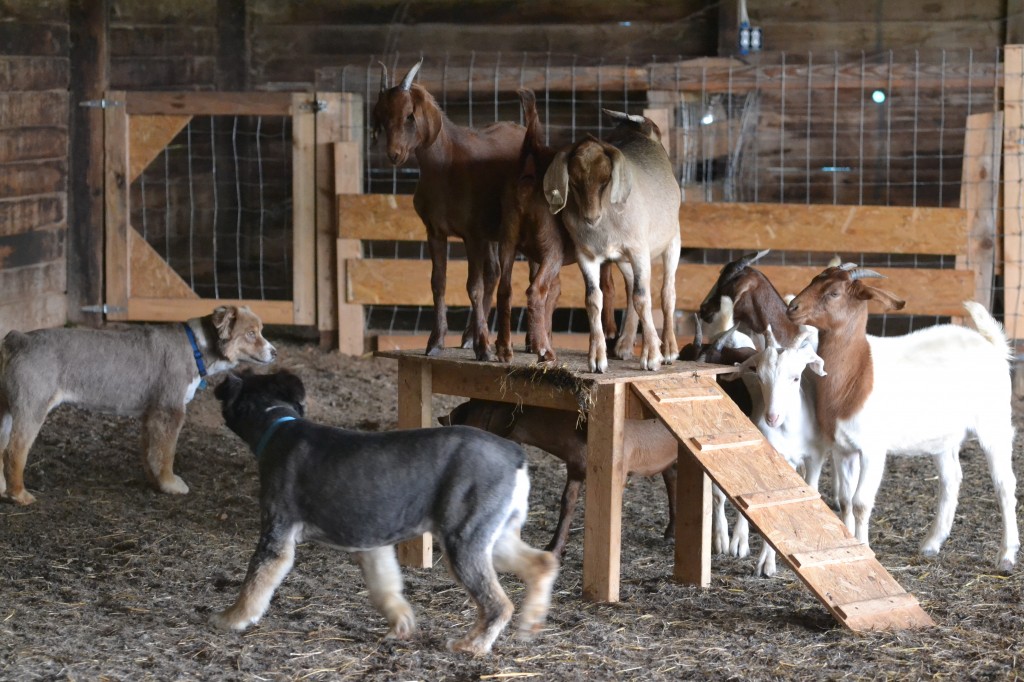 Our strawberry season was shorter than anticipated due to the rains in early June. We were hoping our ever-bearing plants would make a comeback and produce a July crop but sadly it didn't happen. We still have plenty of berries in the freezer for our spreads so I'm making it as fast as I can! We sell it at the Fluvanna Farmer's Market on Tuesdays, Farmers in the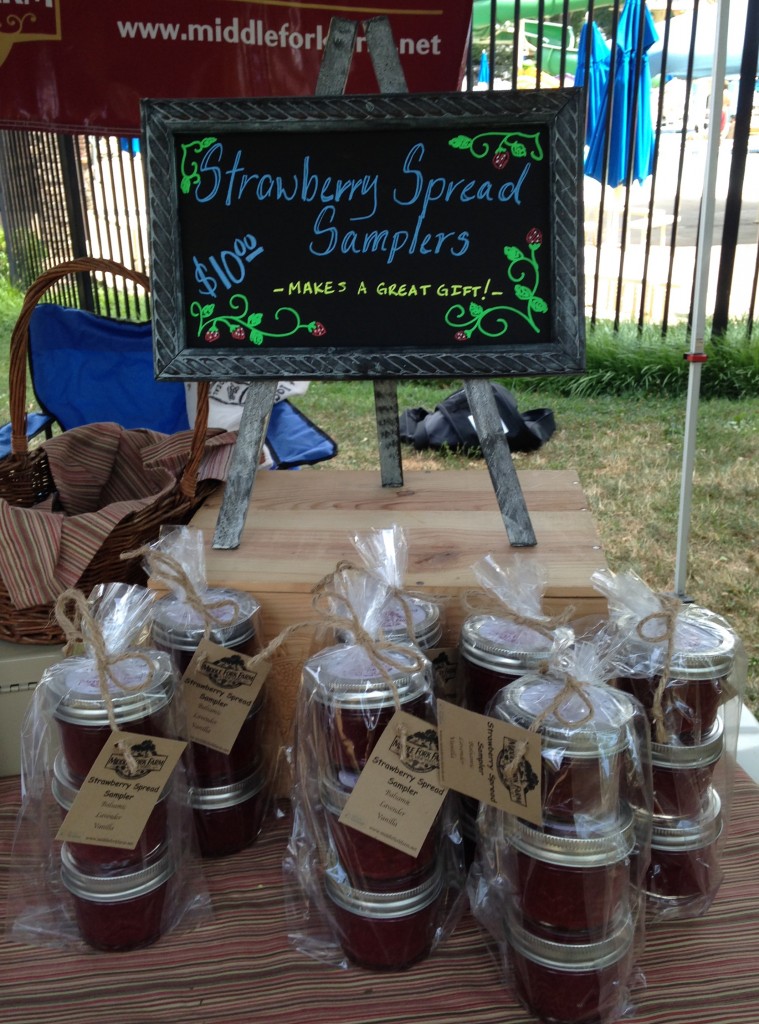 Park on Wednesday, and the UVA Market on Thursday. This week we introduced a sampler pack which includes three 4 oz. jars--one of each flavor and it sold out in no time. It's a great choice if you can't decide which flavor you like best or as a gift pack (great alternative to a bottle of wine).
In addition to all the traditional uses, we're discovering lots of new ways to enjoy strawberry spread. Our friend, Mark, served 4th of July ribs cooked with a sauce made from our Strawberry Balsamic spread. I'm trying to get the recipe but Mark's not a recipe kinda guy -- we'll see. He also made a chicken marinade by combining Strawberry Vanilla and tomatillo sauce. Daughter Amy created a summer cocktail by combining Strawberry Lavender spread and vodka, then adding sparkling water, and finishing it off with a sprig of mint. Thursday a group of ladies were excited about scones and strawberry spread—a little afternoon tea? And, of course a super simple dessert is topping your favorite ice cream with Strawberry Vanilla spread. If you've got a recipe using any of our strawberry spreads, send it to me (with pictures, if possible) and we'll share it!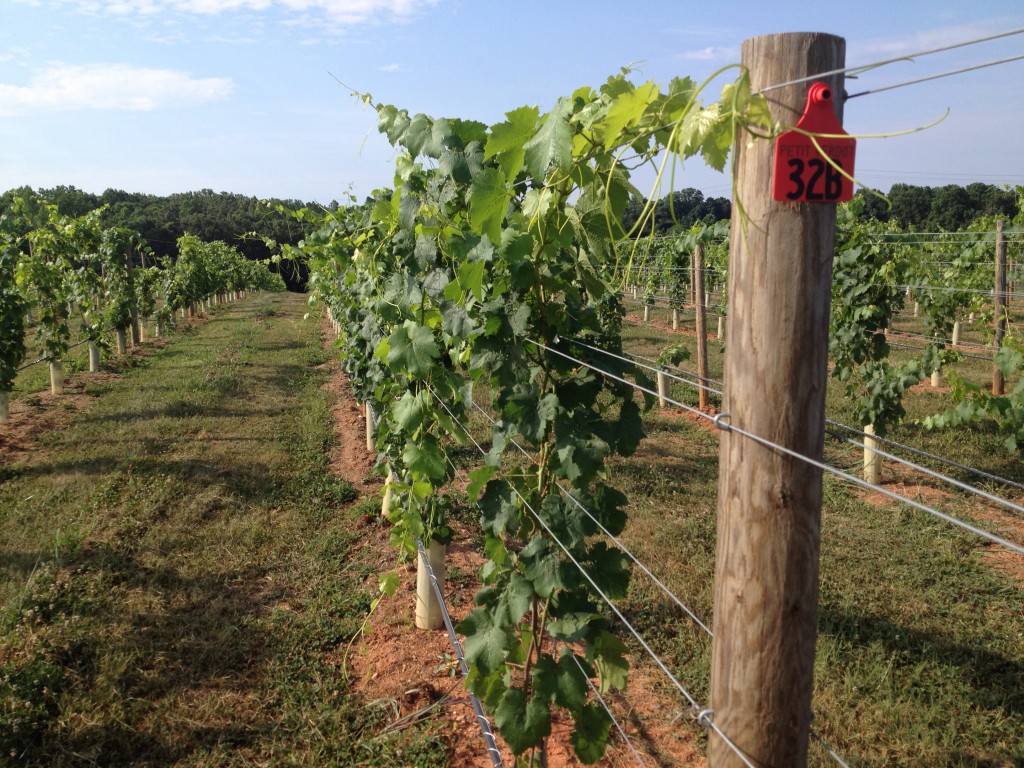 The vines are prospering and look beautiful! It looks like we had minimal damage from the winter this year (those burning hay bales must have helped)! Our new sprayer and spray program are doing great and the irrigation system for Block A and Block B are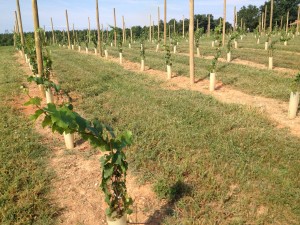 operational. As of Friday, all 400 posts for the new vineyard, Block C, are in the ground---good work guys! Next, comes trellis wires and then irrigation to complete Block C.
The beehives are filling up with honey. Both hives now have two supers and the bees are starting to draw out the wax in the upper super. Its really amazing watching them work and seeing the growth of the honeycomb and development of the eggs. Cover crops and crop rotation are an important part of sustainable farming so Rick planted one of the empty berry fields with cover crops, buckwheat and clover, and the bees love it!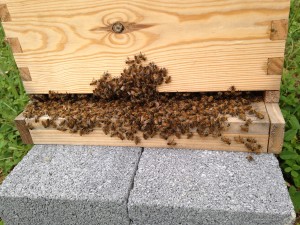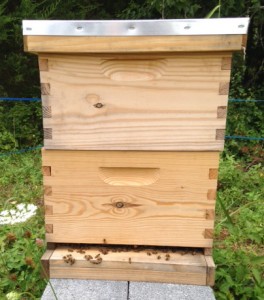 Remember to send us your Strawberry Spread recipes and photos!