You've already read a lot about our goats and you've met Snickers and Doodle, our Australian Shepherds, but lots of people want to know what other critters live on the farm. So, this blog is all about the non-human residents of Middle Fork Farm--horses, a mini-mule, cats, and chickens.
I'll start with horses and introduce you to our newest barnyard resident, Cunningham (aka Charlie).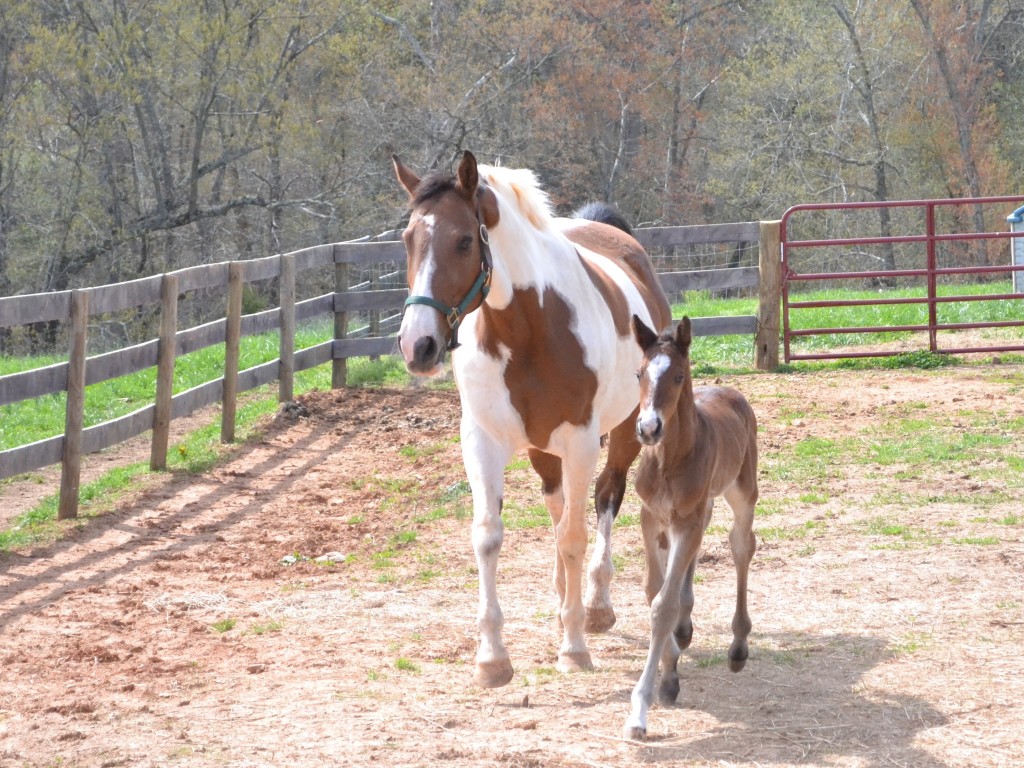 Cunningham is a Warmblood colt born on April 15 to my mare, Avery. He's a big guy and quite rambunctious. We were lucky enough to get to watch his birth, which was really exciting. Avery is doing an amazing job as a first-time mom. She's super attentive to Charlie, but perfectly happy to allow us in to handle and admire him.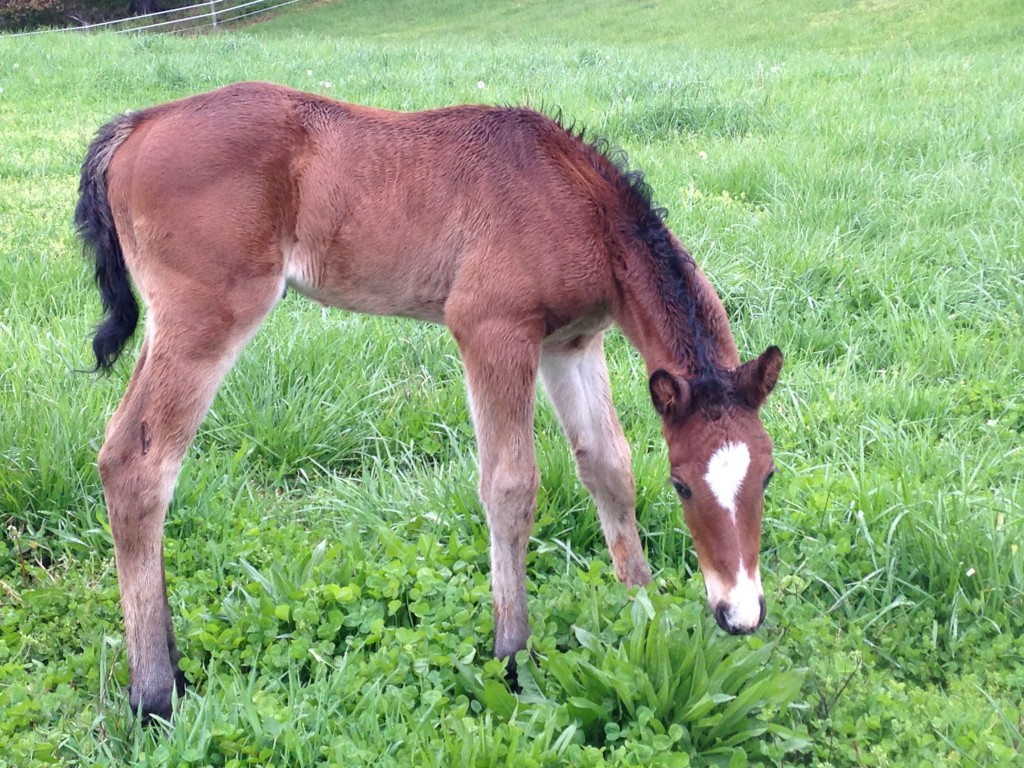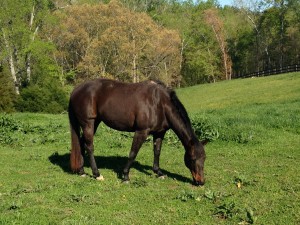 Avery's herd-mates include Gracie, Isabelle, and Jackson.   Gracie is a registered Paint without any spots. This is known as a breeding stock horse. She's a wonderful trail horse and even though she's the smallest, she's the alpha mare.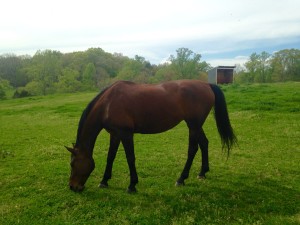 Isabelle, another Warmblood, is my friend, Bennie's, dressage and trail horse. She and Avery are best buddies and before Charlie, were always together.
Jackson, our clever and precocious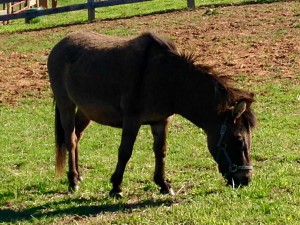 mini-mule has experience as a foal-nanny and can't wait to play with Charlie.  Last fall he discovered a way to escape through the electric fence. After we caught and returned him several times, he decided he didn't need an escort and as soon as we got close, he'd take off and put himself back in the pasture.
Keeping the horses company in the barn are our 5 wonderful barn cats. They are friendly and earn their keep as incredible hunters! Two years ago a neighbor gave us Jewel and her week-old kittens. All are solid grey. Two, Subway and Pepper, went to live with Sara and Rick (really with Laura and Maya), one went to a friend, and other two stayed with us. As they were identical, it seemed only appropriate to name them Darryl and Darryl.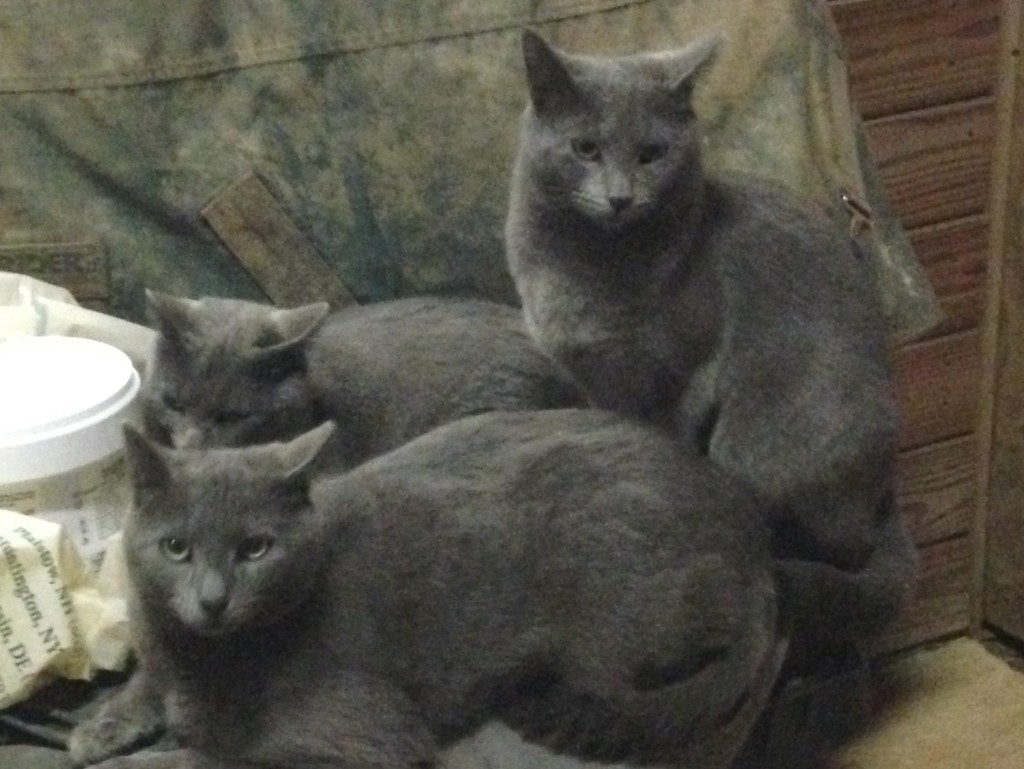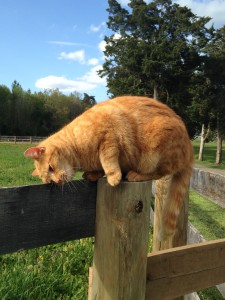 And, since we had Darryl and Darryl we needed a Larry (see Bob Newhart show). Larry is either trying to roll over on the top fence board or following someone around. He was with us to watch Charlie's birth!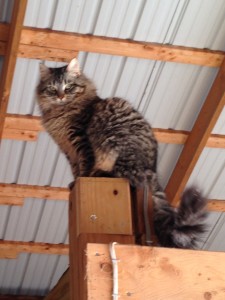 Ty Kitty is our last addition. She was a rescue after Sara's friend found her stuck in the engine of her car. She was a tiny kitten when we got her and has since grown into a beautiful fluffy cat determined to catch the birds in the rafters of the barn (totally impossible!).
Twelve laying hens round out the barn. We do love our fresh eggs but have discovered the origin of the expression "dumb cluck."  Recently we added 7 Cochin hens to our flock.  I was warned that this variety likes to "sit" (i.e. sit on eggs and try to hatch them, even if they're not fertile).  It was certainly not an understatement. How many chickens do you see in this box?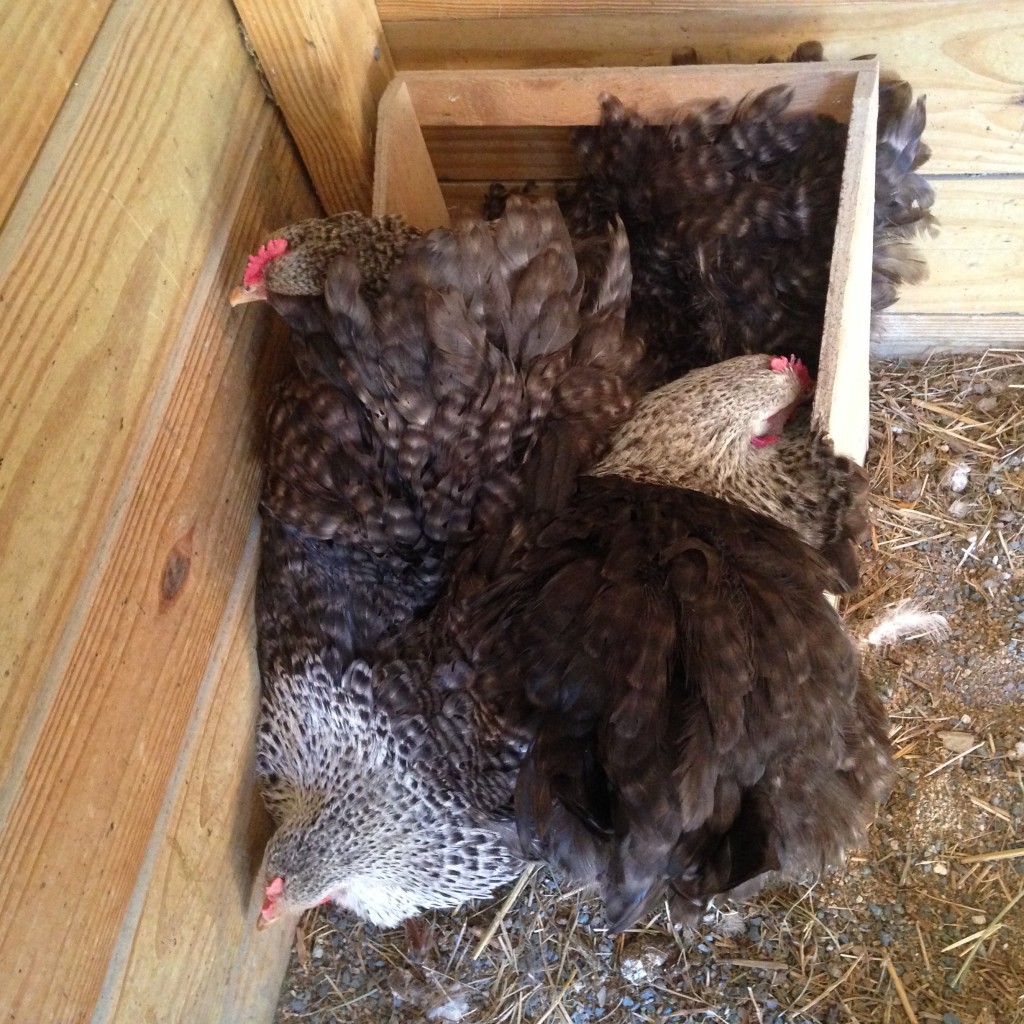 The answer is 3.
If you've been following us, you know our goat herd has grown. Most of the kids have moved on to new homes, but we added 7 doelings from this year's group to our herd. We do have our last 3 bucklings are for sale (for more information contact Sara at 540-540-424-3986).  Two of the bucklings (now wethers i.e. neutered males) are 4-H market projects and will be for sale at the Fluvanna Fair in August. Quizno, our buck, will be with us through this year's breeding season.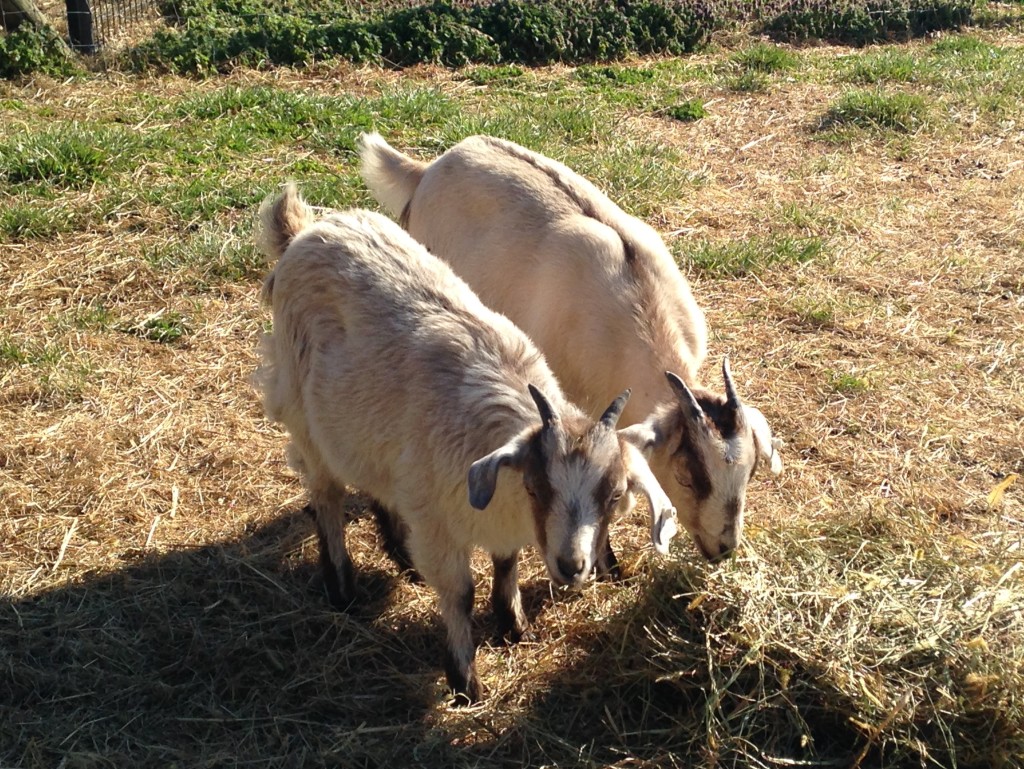 Snickers and Doodle haven't gotten into any trouble for awhile, although Doodle did present us with a dead raccoon this week—it is the beginning of raccoon and possum hunting season for Snickers and Doodle (mostly Doodle). They had their spring buzz-cut and, as you can see, look like puppies with big feet.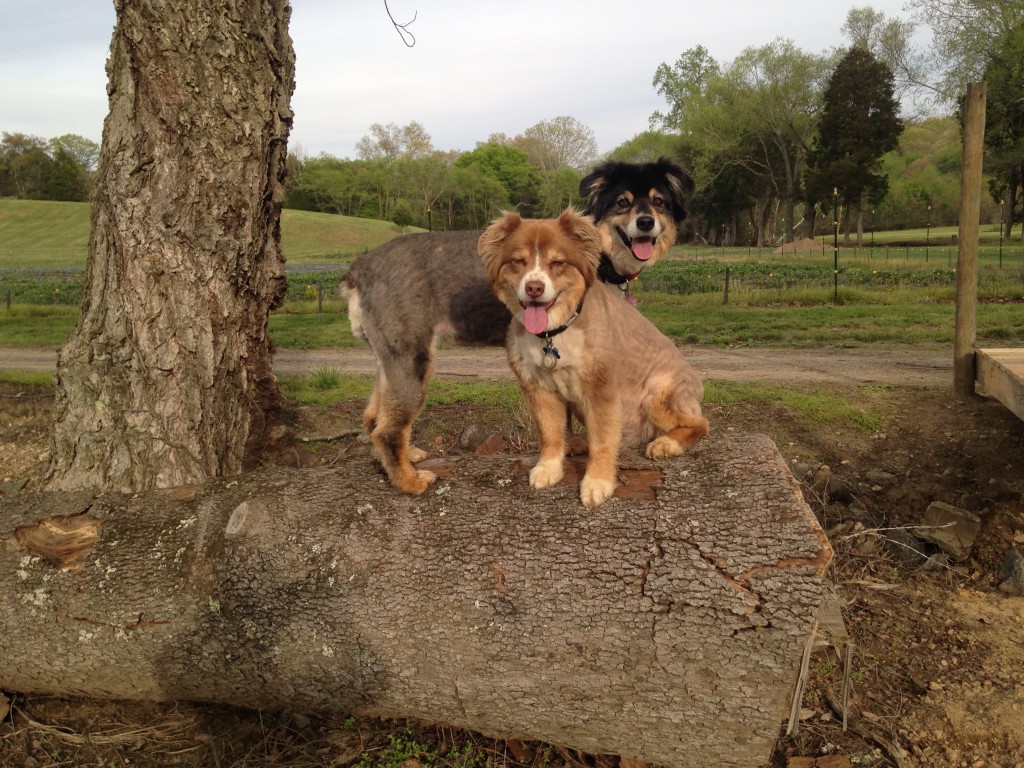 Strawberry News
The berry fields are looking quite white with blooms. We will be opening for Pick Your Own on Sat. May 23 and continue to be open on Sat. and Sun. through June (maybe even July, depending on the weather).  Exact dates and times will be posted on our Facebook page. If you have a group of 10 or more, we will schedule a special private picking for you during the week.
Please come visit us, pick some berries, meet Snickers and Doodle, and enjoy a picnic by the creek.