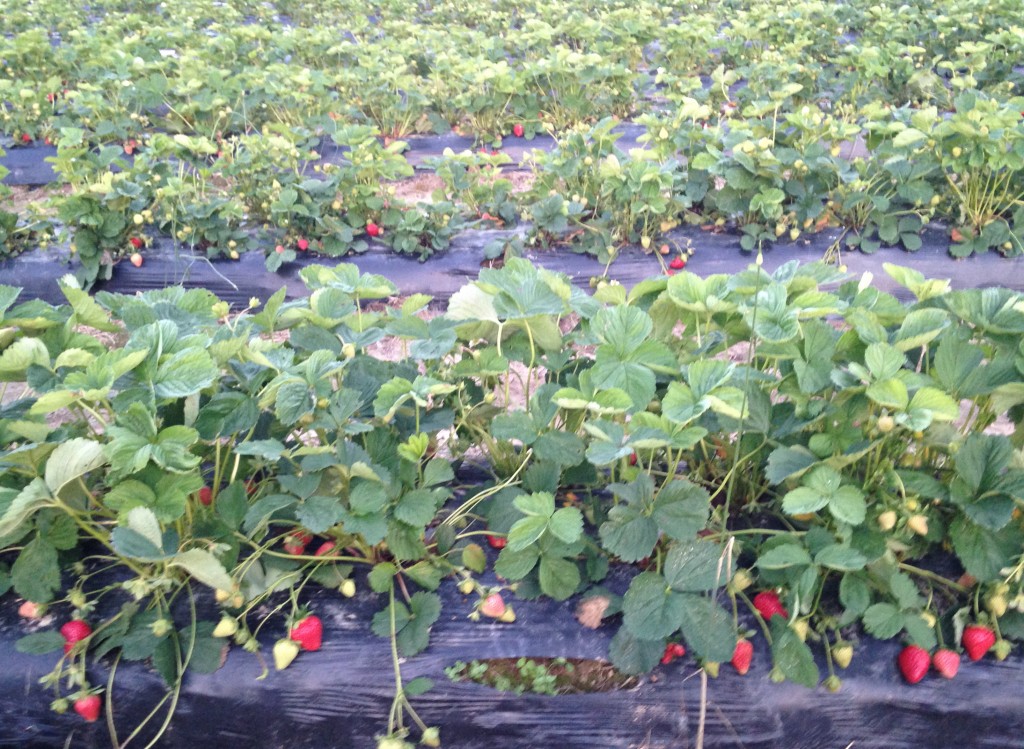 In my last post I said that spring is fickle (and that rain was coming) – both were an understatement! The last couple of weeks have been a bit of a roller coaster (or maybe farming just makes us manic)---one day we're euphoric and then bam, spring's fickleness hits again and we're sad and frustrated (but not defeated!).
After the April freeze and midnight bonfires, we were feeling quite accomplished. We'd planted our new grape vines and populated berry field #2 with about 20.000 daughter plants. Life was good! Or so we thought…
On the night of April 30, the rains slowly hung over central Virginia and by morning portions of our new berry field had transformed into a fast moving stream. Many of the new beds were flattened, daughter plants, plastic cloth and irrigation lines were scattered in the fields, creek, and wrapped around trees.  It was not a pretty sight! The creek flowed over the bridge and carried away trees and the natural bridges we'd made, as well as an Adirondack chair and a 60-gallon tank. Rick philosophically said, "who needs Las Vegas when you're a farmer?"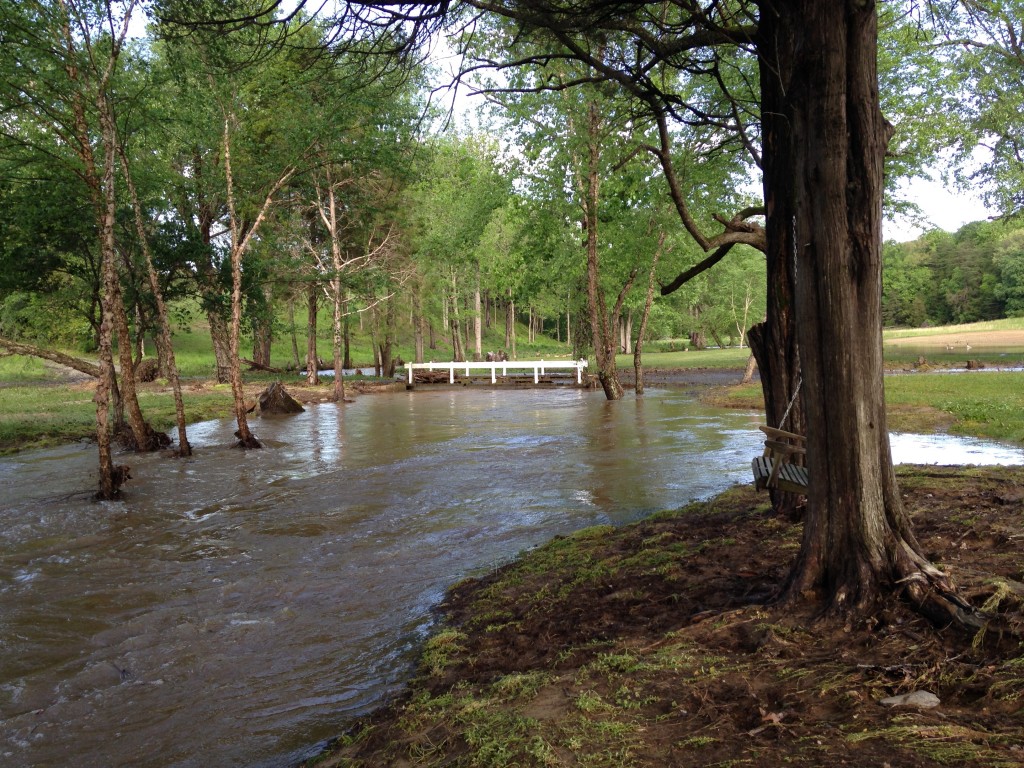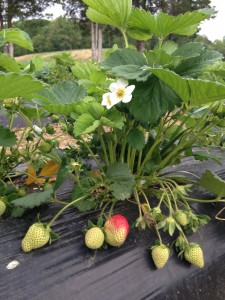 Like beavers, with our wonderful crew, we put it back to together. The sun shone and life was good again, for a while! Every day we watched the plants produce more blossoms and eventually we saw the first reddish strawberry. Our lovely green fields were speckled with spots of red. Rick guessed that our first harvest would be yesterday but the forecast said rain. So to be safe we opted to harvest on Thursday, using our brand new strawberry carts designed and crafted by Rick.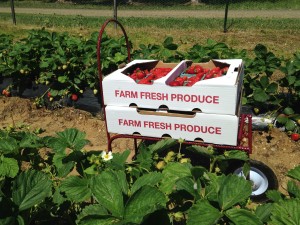 It was a small harvest but, oh what beautiful, delicious berries! Life was good!
And then as predicted the rain came, again—about 6" of it! It didn't start gently, it just poured and kept going through the night, along with its sidekick, the wind.   Because of the intensity and the wind, the damage was different. The daughter plants in our newly rebuilt and smaller berry field #2 were undamaged (yeah!) but the water in the creeks and the wind ripped out a portion of the anti-critter fence surrounding field #1 and flattened six rows of mature berries. It also took the other Adirondack chair and all but one of our picnic tables somewhere downstream.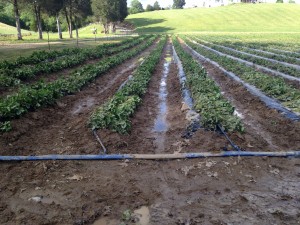 The good news is the plants will recover; the bad news is we lost a substantial part of today's harvest and we have to delay Pick Your Own.
Even so, today ended with the roller coaster going up. Our friends at Jefferson Pharmacy at Lake Monticello invited us to put a strawberry table in front of the store. Customers were thrilled to find local organic strawberries and strawberry spreads available. One customer bought strawberries, tasted one and came back for more! Pretty cool!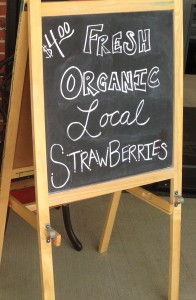 A musician friend of ours used to end his shows by saying, "Lord willing and the creek don't rise, see you next time." Jimmy, we're going to borrow that salutation and say, Lord willing and the creek don't rise (again), starting in June we'll be at the Fluvanna Farmers Market on Tuesdays and Farmers in the Park (C-ville) on Wednesdays. And, we'll definitely post dates and times for Jefferson Pharmacy and Pick Your Own (hopefully) on our Face Book page.