We know you love strawberries -- so we made the assumption that  you might be fascinated by some strawberry trivia.
Over 53 percent of seven to nine year olds picked strawberries as their favorite fruit.
Eight strawberries will provide 140 percent of the recommended daily intake of Vitamin C for kids.
One cup of strawberries is only 55 calories.
Strawberries are not true berries because their seeds are on the outside—usually around 200 of them.
Strawberries are a member of the genus Fragaria, which is the rose family.
Strawberries are grown in every state in the United States and every province of Canada.
Native forms of strawberries adapt to various climates and are indigenous to every major continent except Africa, Australia and New Zealand.
Seventy per cent of a strawberry's roots are located in the top three inches of soil.
Strawberries are the first fruit to ripen in the spring.
The Musee de la Fraise is a museum in Belgium just for strawberries.
According to the United States Department of Agriculture, the annual per capita consumption of fresh and frozen strawberries is 4.85 pounds (Yours are waiting for you at Middle Fork Farm!)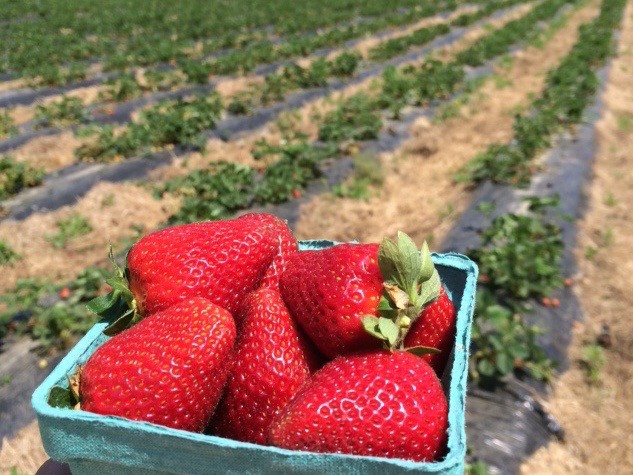 Remember we'll be open for Pick Your Own on Sat. and Sun. through the end of June (maybe longer, if the weather is kind! Check our Facebook page for exact times and weather updates)  If you have a group of 10 or more, you can also schedule a private picking on Wed.,  Thurs., or Fri.  Be sure to get your Berry Lover's Club card---buy 10 get 1 free!
Sources:
http://extension.illinois.edu/strawberries/facts
http://www.nutrition-and-you.com/strawberries.html
http://www.sciencekids.co.nz/sciencefacts/food/strawberries.html