It snowed—hooray! I know not everyone shares my excitement, and I wouldn't want to be living in Boston with 95" of snow, but it's really beautiful! First thing in the morning it's so pristine and quiet.   It just seems like for those few minutes, the world is a calm and peaceful place and I love it (so do Snickers and Doodle)!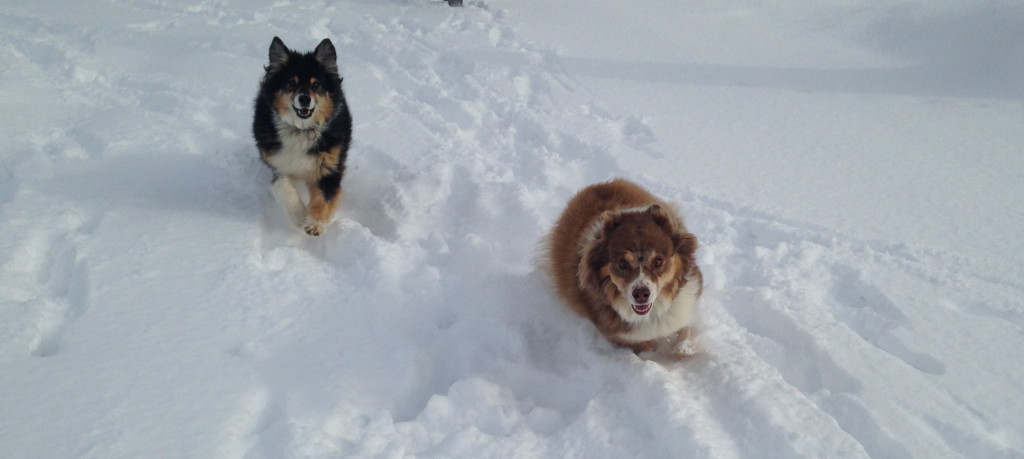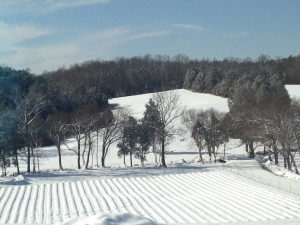 The strawberry rows and vineyard looked lovely covered in snow for one last sleep before spring. They are both in a dormant state so the snow will not be harmful.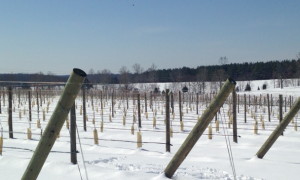 Rick, however,  was planning to start pruning vines this week but looks like he'll have to delay a bit.
The kids weren't too sure what to make of the strange white stuff on the ground and the does weren't leading the way. They all came out of the barn to soak up the sun but only a couple brave kids ventured out to investigate.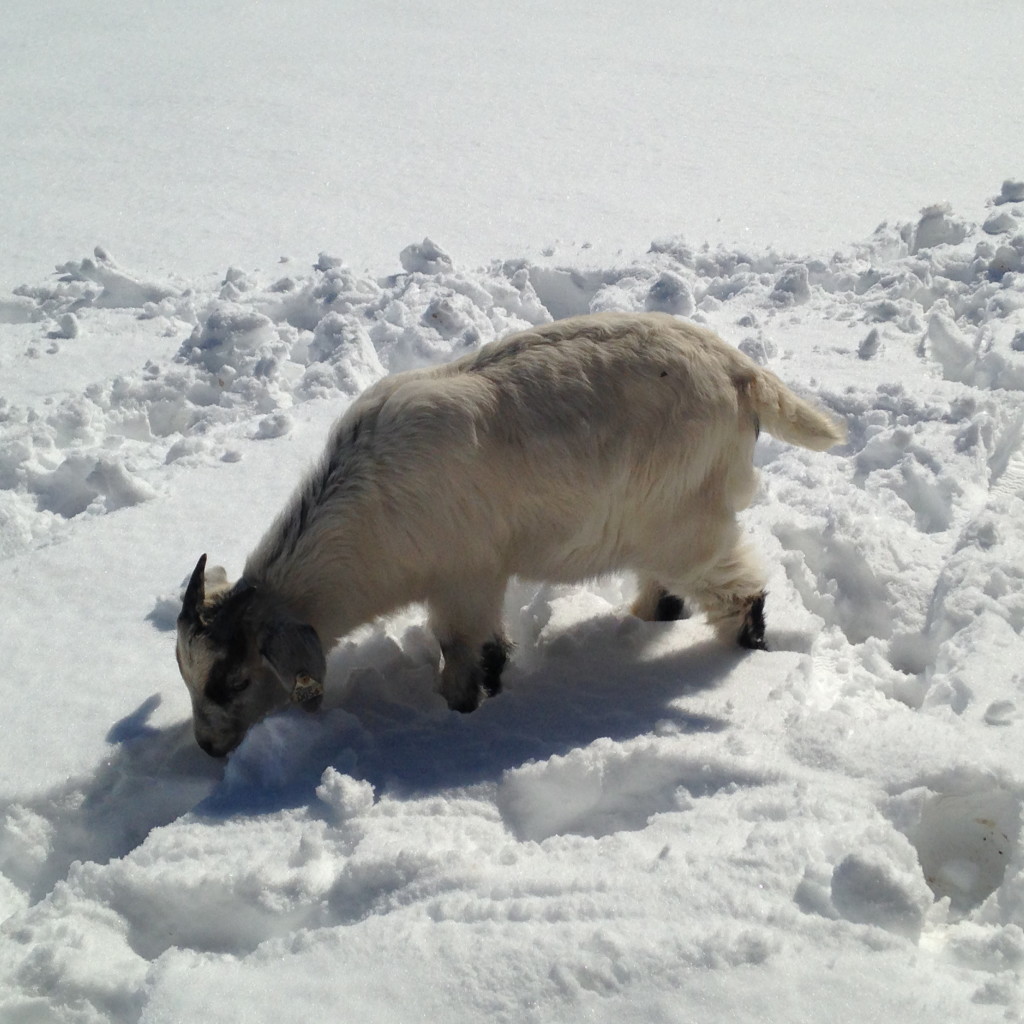 So, this blog isn't really about snow but it had to be mentioned. It's about the Valentine Wine Tasting/Strawberry Spread Sampling event last Friday at the Jefferson Pharmacy . We visited with neighbors, including Leslie and George from Thistle Gate Winery and made some new friends.
Sara, Beth, and I had a lot of fun preparing and sharing a couple of new Middle Fork Farm strawberry spread recipes.   We served our old favorite, a melted Brie with Strawberry-Balsamic Spread, and introduced two new dessert recipes: mini no-cook cheesecakes topped with Strawberry-Lavender Spread, and mini "pop-tarts" filled with Strawberry-Vanilla Spread.
Both are simple yet scrumptious recipes. Of course, the strawberry spread flavors can be switched around depending on your favorite or what you have on-hand.
No-Cook Mini Cheesecakes with Strawberry Topping
Makes 30
Ingredients:
4 oz. cream cheese, softened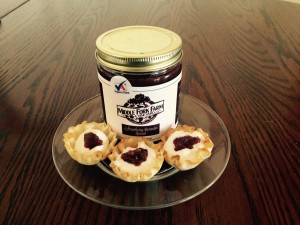 ½ c. sour cream
2 tbsp. sugar
1 tsp. vanilla
Middle Fork Farm Strawberry-Lavender Spread
2 packages mini phyllo dough crusts (you can use directly from the freezer or crisp them in the oven at 350 ˚F for 3-4 minutes. Cool before filling.)
Directions: 
Beat cream cheese, sour cream, sugar, and vanilla in a small bowl; refrigerate 30 minutes.
Spoon cream cheese mixture into phyllo cups.
Add 1 tsp. Middle Fork Farm Strawberry-Lavender Spread to each cup.
Enjoy!
The pop-tarts were really Sara and Beth's creation, kid-tested by Sara's daughters, Laura and Maya. Their idea was to come up with something easy for an after school snack. We made a mini size for sampling purposes but they could be made any size depending on how you cut the dough.
Mini "Pop-Tarts" with Strawberry Filling
Ingredients:
1 package refrigerated pie crusts, brought to room temperature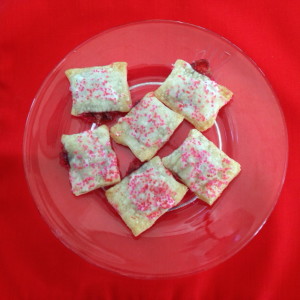 Middle Fork Farm Strawberry-Vanilla Spread
Sprinkles (PINK was preferred by the 6 and 9-year old set)
Powdered Sugar Glaze (whisk together 1/2 c. powdered sugar and 1-1/2 tsp. milk)
Directions:
Roll each pie crust to 1/8 in. thin on a lightly floured surface.
Cut the crust into rectangles, approximately 3in. x 1in.
Place a small spoonful (about 1/4 tsp.) of Strawberry-Vanilla Spread on the bottom half of each rectangle.
With your finger, wet the outside edge of each rectangle and fold in half, pressing edges together and sealing the spread inside.
Bake at 375 ˚F for 10 minutes.
Before they cool, drizzle your powdered sugar glaze over each piece and immediately sprinkle with your favorite (PINK) sprinkles!
Let us know if you like our strawberry spread desserts  and send us your dessert ideas to share.