Our friend, Pat, has a passion for many things —playing great music (see Local Vocals), selling real estate (he spent 4 years searching with us), and cooking delicious food for friends. After tasting our Spicy Strawberry Spread, he was eager to "play" with it.  A few evenings later, he showed up with a late night treat -- Spicy Strawberry BBQ Chicken.
Sara was eager to try it out (and take photos for this post) but had limited time.  She skipped the marinade and roasted it in the the oven.  Her family reported that it was  "delicious."
Thanks, Pat! Thanks, Sara!
The timing couldn't be better because whether you grill it or roast it,  Spicy Strawberry BBQ Chicken is perfect for Father's Day!
So, here's Spicy Strawberry BBQ Chicken 2-ways using Pat's recipe with a slight modification from Sara.
Spicy Strawberry Sauce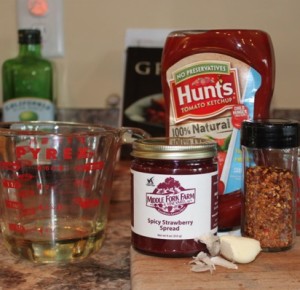 Combine the following ingredients:
1 jar Middle Fork Farm Spicy Strawberry
¼ c. Ketchup
¼ c. Canola oil
1 garlic clove crushed (added by Sara)
Salt and pepper
Grilled BBQ Chicken
Directions:
Marinade thighs in Italian dressing and garlic cloves for 1-2 hours
Sear chicken skin-side down
Flip chicken and cook bone side down (Pat says the bone will radiate the heat to the meat)
When 80% cooked, brush BBQ sauce on skin side
Serve with extra sauce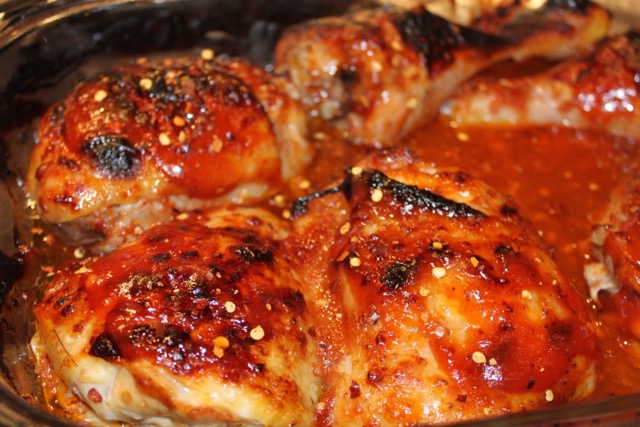 Oven roasted BBQ Chicken
Directions:
Cover top of chicken with Spicy Strawberry BBQ sauce
Bake covered for 1 hour at 3500
Remove foil and put under the broiler for 10 minutes
Top with red pepper flakes
Serve with extra sauce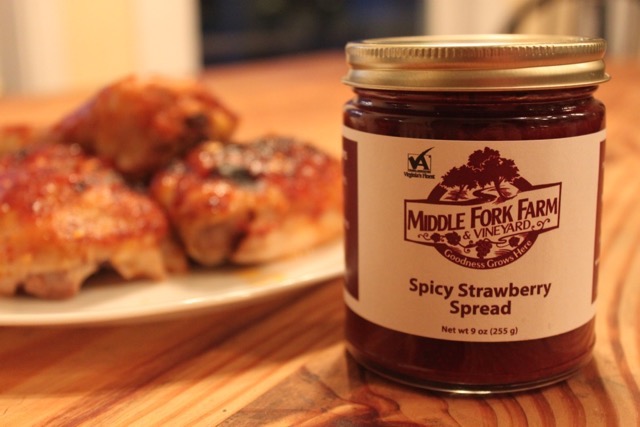 If you've been "playing" with our strawberry spreads, let us know what you created.