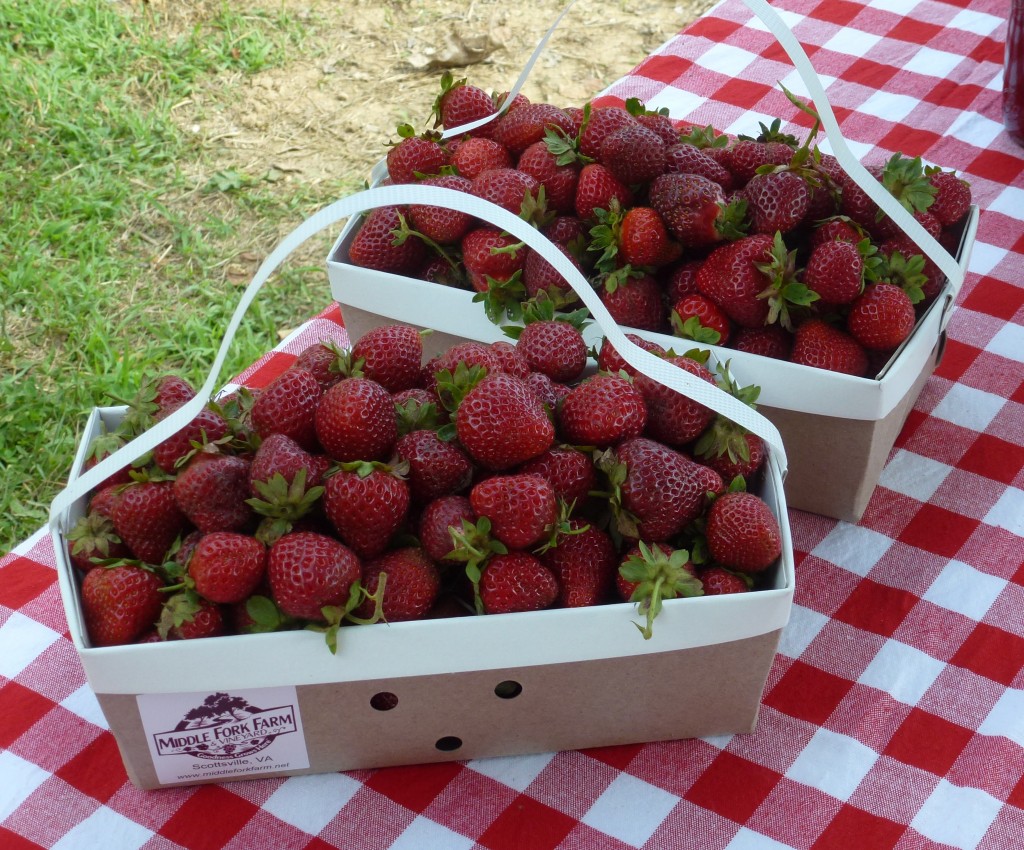 Saturday was our first Pick Your Own strawberries event and it was a big success! Our customers left with smiles and berries (lots of berries!), we met some new neighbors and area visitors, Snickers and Doodles made lots of new friends, and at the end of the day the fields were in great shape (which made Rick very happy!). We saw a variety of picking styles from the very serious selector to the random picker, but all variations included some taste testing in search of those delicious ripe red all over berries.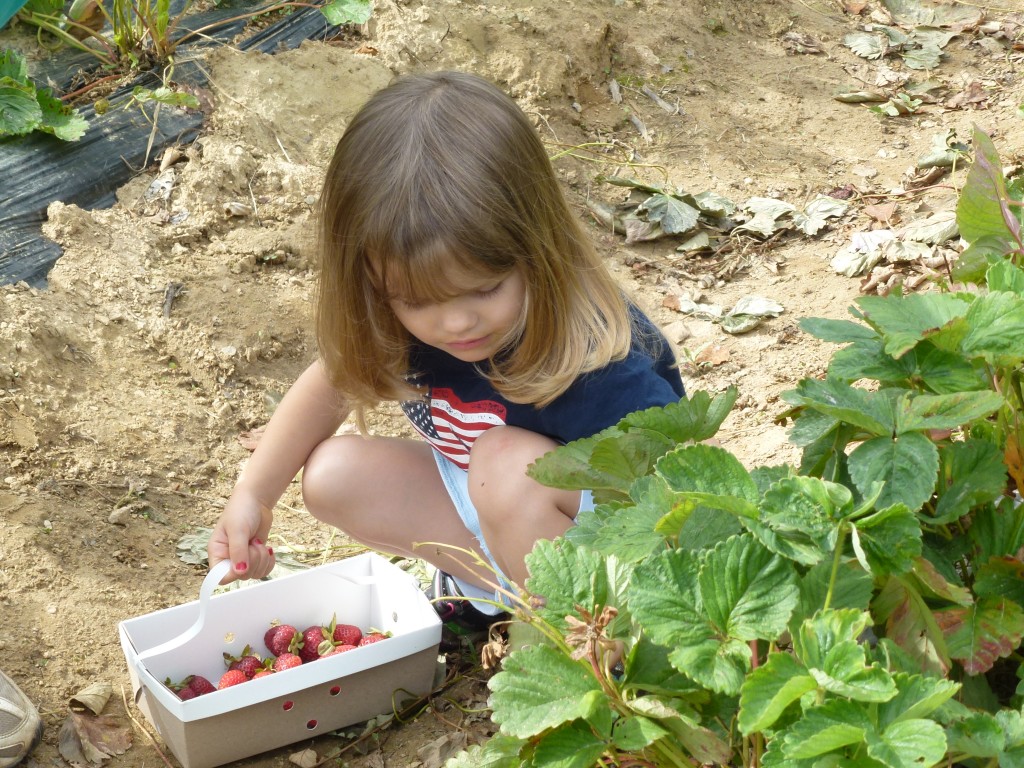 We want to thank all of our visitors for following our one rule, be nice to the plants!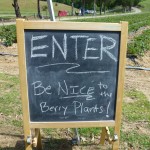 We also want to send an especially big shout out to the moms, dads, and grandparents with young kids—thanks for teaching them to respect the plants! Please come again!
Getting ready was a multiday project. Friday was clean-up day for the strawberry fields, mowing around the area, and staging for the morning. Saturday we got an early start setting up displays, canopies, signs, and (very important) the PortaJohn. Rick made a new two-sided chalkboard from an old farm window frame and we discovered that Sara has a highly valued skill—hand-lettering. From now on, in addition to being our goat whisperer she is also our talented sign writer.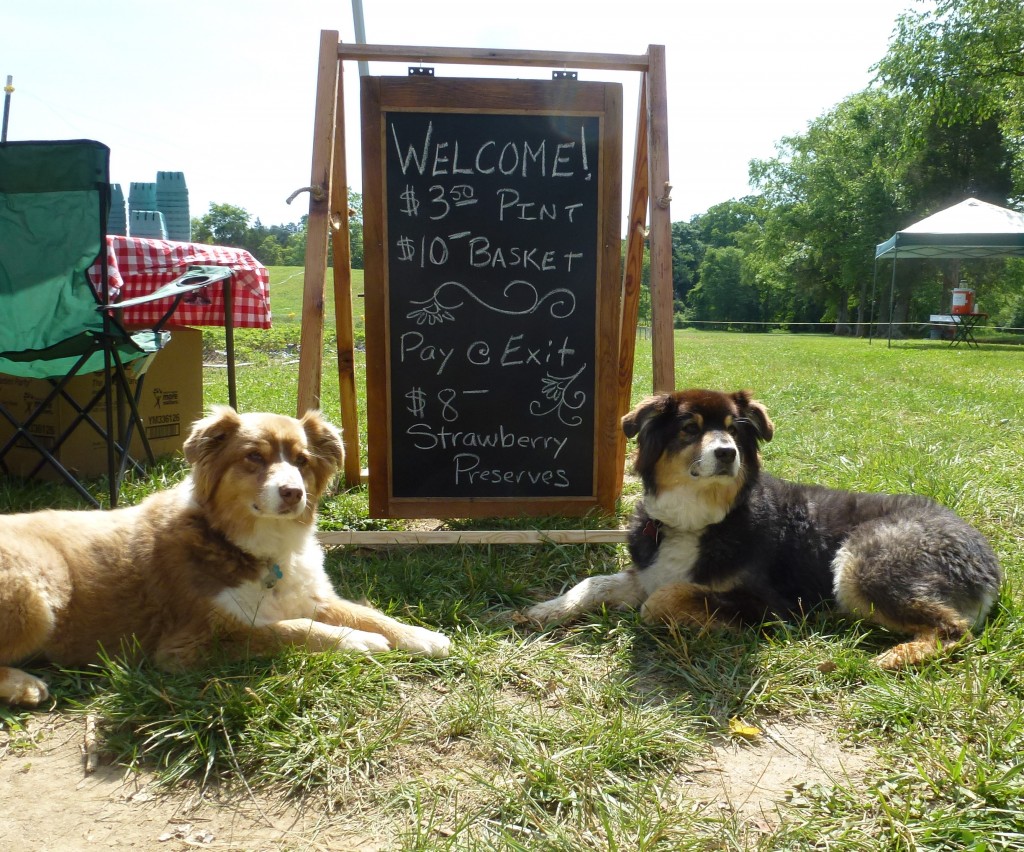 In addition to you pick berries, we sampled and sold our yummy spreads —Strawberry-Balsamic, Strawberry-Lavender, and Strawberry-Vanilla.   They are made with twice as many berries as sugar so the taste is much different than what you'll find at the grocery store. Each has a unique flavor and, borrowing from my (many) wine tasting experiences, I sequenced the tasting to highlight each flavor profile.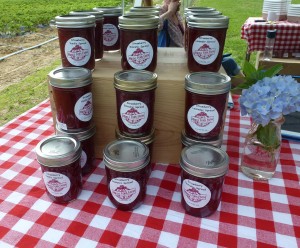 We began with Strawberry Balsamic, which tempers the sweetness to enhance the naturally rich berry flavor. This was our best seller. Sample #2 was the Strawberry Vanilla, which is made with real vanilla beans. It produces a mild vanilla note that pairs well with the sweetness of the berry (Our young customer, Simon, left with 2 jars and a big smile). We ended the tasting with Strawberry Lavender. According to Sara (its her absolute favorite), "the flavor is unexpected and addictive." It has a strong berry flavor with a floral note at the end—you can smell the lavender, as well as taste it.  All of the flavors make a tasty and quick appetizer when paired with a soft white cheese, such as brie.  Sprinkle a few nuts on the top or garnish with mint or basil and you're set to go.
It seemed that for many of the kids the creek (the Middle Fork of Cunningham Creek—the source of our farm name) was a bigger attraction than the berries. Laura and Maya graciously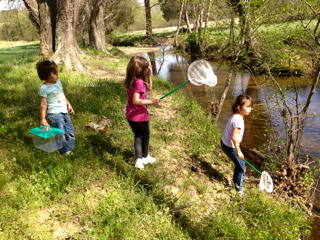 showed visitors where to find and sometimes how to catch fish, crayfish, and frogs. Of course, rocks, sand and water are enough to keep most kids busy for a long time and on Saturday it really did. I think we even had a few adults cooling off in the creek after doing their time in the berry field.
At the end of the day, we "debriefed" about the pick your own experience. We talked about a lot of details but the big question was, should we do this again? We all agreed that Pick Your Own will become a regular part of our strawberry season and we will do it again later this summer.  Next time, we're thinking we'll open "picking" from 9-12 on Saturday morning and 1-3 on Sunday afternoon.  We'd love to know what you think of the Sunday option (send us an email).  As soon as we have dates, we'll post it on Facebook (https://www.facebook.com/pages/Middle-Fork-Farm/540326095986621). And, next season we'll start Pick Your Own early in the season so more people can enjoy getting their berries straight from the field.
In other farm news, Bruce has finished his winemaker certificate courses through PVCC and UC Davis--kudos! Just for fun, he's going to make some strawberry wine this summer and then in the fall, he'll start making red wines so they'll be aged just right for our tasting room opening in the spring of 2016.