Well, I didn't meet my goal for writing blogs in 2014, but it's a new year with new hope and (more realistic) ambition -- one blog per month. So, here's my January blog…
Wrapping up 2014
Goats: If you've been following our FB page (https://www.facebook.com/pages/Middle-Fork-Farm/540326095986621), you already know we have 21 adorable, rambunctious goat kids -- 12 girls and 9 boys. They were all born in a very busy six-day period from December 9 - 14. The does gave birth so quickly that Bruce and Rick had to convert our 4 spacious birthing stalls into 6 less spacious birthing stalls to accommodate all the new moms and kids.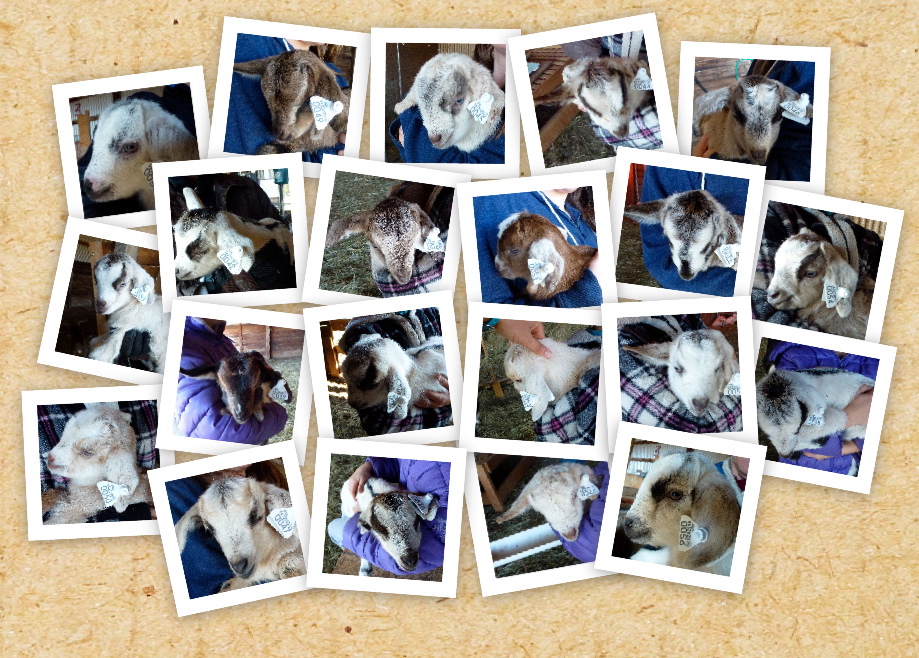 With lots of family help, Sara and I tagged, vaccinated, weighed, and photographed all the kids when they were one week old. There was lots of chasing, laughing, and squealing by humans and kids alike (and occasional barking from Snickers and Doodle while barn cats, Jewel and Larry, came by periodically to make sure we were on task). We weighed the kids again this past weekend and they are growing fast—approximately ½ lb per day!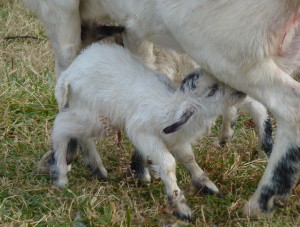 We decided that we should pick a naming theme for each set of kids to help us keep track of each generation (we only name the does as the bucklings will be sold). Laura was captivated last year when she studied Greek gods and goddesses (Percy Jackson helped, too), so we decided to go with a Greek theme for this year. Not all the doelings are named but so far we've got Hera, Hestia, Aphrodite (of course), Artemis and Demeter.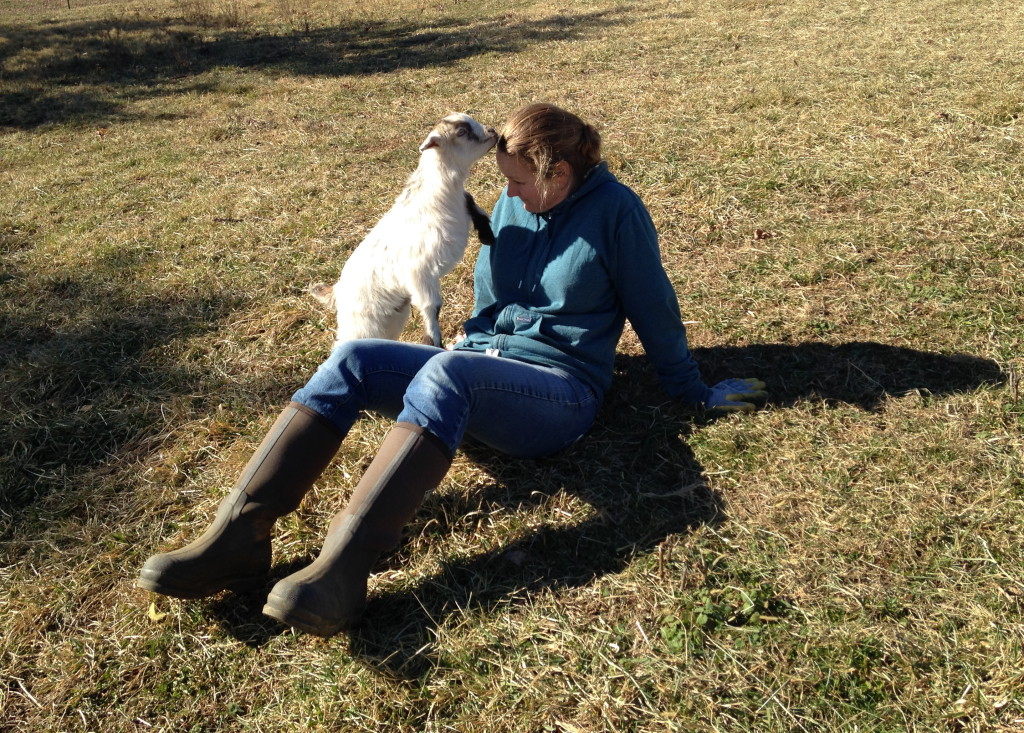 Vines and Wines: Rick and crew were busy in the fall winterizing the vineyard. This involved two key tasks: winterizing pipes and irrigation lines and "hilling" the vines. Hilling is just what it sounds like—making hills around each vine. This protects the grafted wood from freezing. As you might imagine, this can be a very labor-intensive process if done by hand. So, in typical Rick style he researched "hillers" and designed and built—yes, built —an attachment for our tractor to make the task more efficient. Yeah, Rick!!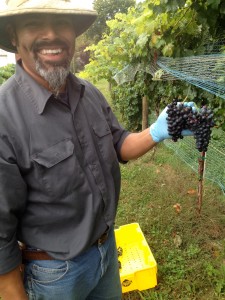 Bruce has also been hard at work making our first vintages of red wine with guidance from his mentor, Matthieu Finot, winemaker at King Family Vineyards. These will be our reds when we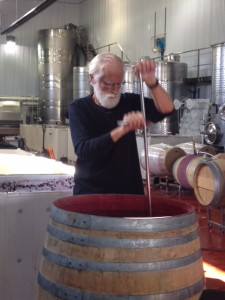 open our winery/tasting room in Spring 2016! We had lots of help from family and friends in the fall sorting and processing the grapes before they could be made into wine.
We now have four varieties of red wine ageing in barrels. From these, Bruce plans to make two pure varietal wines and one red blend wine. Three of the four varieties have been "topped off" (in lay terms, the barrels were filled with wine so there's no room for air) and will rest for a year. The fourth barrel still has to finish its 2nd fermentation.
In late fall, we began working with architect, Susannah Marshall, on the winery/tasting room/farm store design. We've picked a picturesque site between the vineyard and the woods and plan to start construction in the spring.
Strawberries and Spreads: The strawberries, like the vines, have been winterized. It's a longer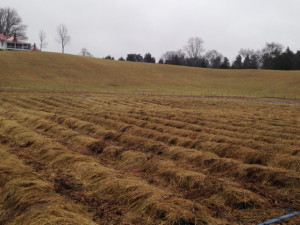 process because they go dormant much slower than the vines and not only does the foliage have to be trimmed but the wounds from the pruning have to heal before we can put them to sleep for the winter with a cover of hay.
We hope you've tasted our Strawberry Balsamic, Strawberry Lavender, and Strawberry Vanilla Spreads. They are available around town at Foods of all Nations, Great Harvest Bread, Jefferson Pharmacy, Michie Tavern, Salt Artisan Market, The Inn at Monticello, and The Bakery in Farmville. We also have 9 oz. jars available at the farm, but we are sold out of Samplers (note to self—make more Samplers in 2015!).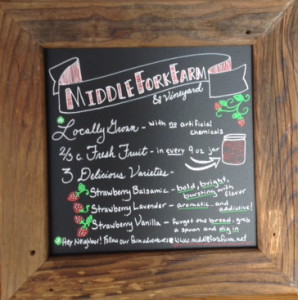 We received approval from the Virginia Department of Agriculture and Consumer Affairs (VDACS) for our new flavors, Spicy Strawberry Spread and Ginger Lover's Peach. They will be available through the farm and local stores in 2015. I am working on a new strawberry flavor (can't disclose the flavor yet) and will write more after I finish experimenting with the recipe. Our farm kitchen now has VDACS approval so in the future we will make our spreads both at the farm and The Prince Edward Cannery. All of our spreads qualify for the VA Finest designation.
Last word on strawberry spreads…we are thrilled to be listed as an Edible Pick in the Artisan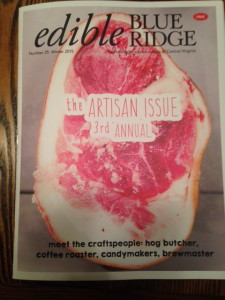 Issue (winter 2015) of Edible Blue Ridge!
A glimpse of what's coming in 2015…
Prune the vines, then "de-hill" them
Uncover the berries
Plant more Merlot vines
Plant more strawberries
Wean the kids
Breed the yearling does
Start construction on the winery/tasting room/farm store
Open for Pick Your Own Strawberries starting late May/early June