We've been really busy harvesting, sorting, and pressing for the past week.  As of Saturday night, we've progressed to the wine making process for Pinot Gris, Viognier, and Chardonnay.
Pinot Gris was the first to be harvested--approximately 4 1/2 tons, which will make about 300 cases of wine!  As you can imagine, harvesting goes much faster with many hands.  So, we were fortunate that along with Bruce, Rick, our regular farm crew, and me, our friend, Brandon, stopped by and helped.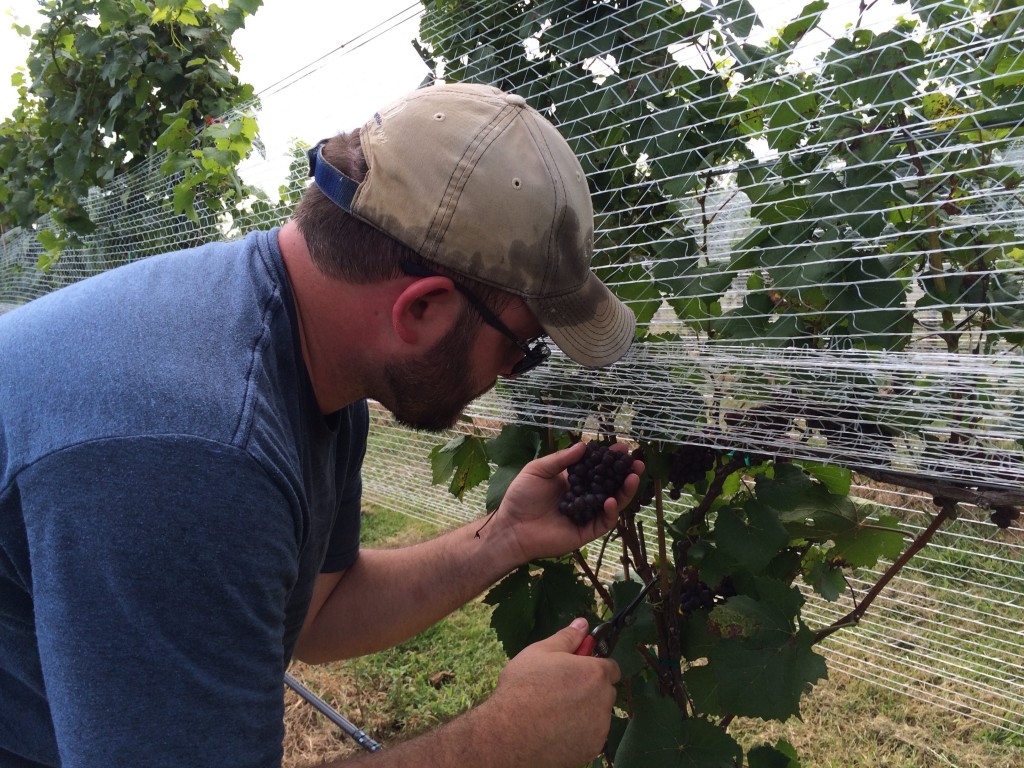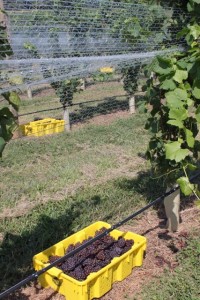 Like every job, there's a certain amount of prep before you get to the main event.  Before harvesting, there are two main tasks. The order doesn't really matter. The bird netting needs to be unclipped at the bottom and raised up.  For me, this is the worst part -- lots of bending and sometimes contorting to get the clip undone.  Also lugs to hold the clusters have to be distributed every few plants along the rows that are going to be harvested. Each lug holds 25-30 lbs and at the end of the harvest we drive down the rows and load the full lugs on the truck or trailer.
The actual harvesting was really fun, as harvesting anything you've grown always is!   Each cluster of grapes is inspected before we clip it and drop it into a lug. We check for sour rot (smells like vinegar) and bird, bug, or critter damage and remove the bad grapes.  This makes sorting at the winery go much faster.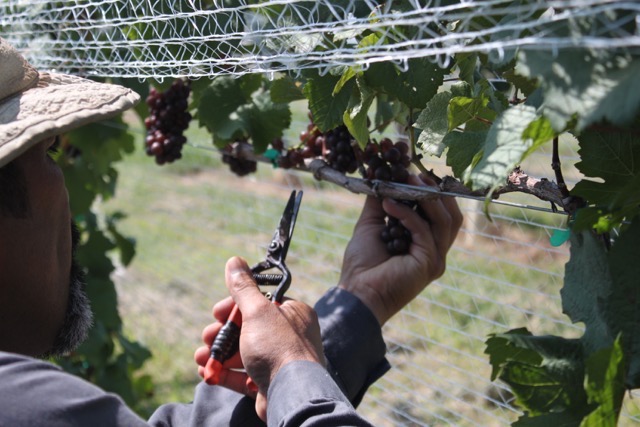 In addition to our 2-legged harvesters, we had Snickers and Doodle.  Their job descriptions were at first unclear but Doodle quickly appointed herself "official protector of filled lugs" and took this job very seriously.  Snickers did what herd dogs do--she herded me and made sure I didn't get lost in the vineyard.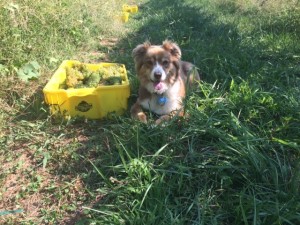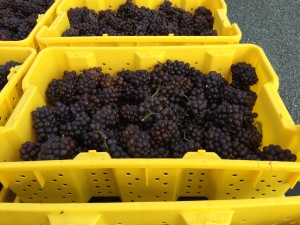 Once the grapes are loaded up, it goes to King Family Winery for processing.  First, it's refrigerated overnight and then the next day it gets sorted--once again looking for bad grapes--and pressed.  The sorting table  always reminds me of  Lucy and Ethyl hiding chocolates in their hats (and elsewhere).   For that reason, I've initiated the Lucy and Ethyl Club for all our friends who graciously volunteer to help with this task.  Pam is the most recent member of this very exclusive club.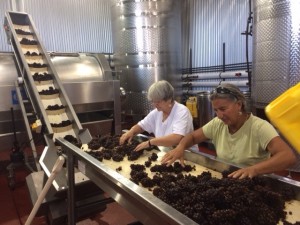 From the sorting table, it travels up the conveyor belt to the press, where the grapes are pressed and juice is extracted.  The juice goes into a fermenter for 1-3 weeks depending on the style of wine being made.  From there it goes into either stainless steel tanks or oak barrel to await bottling. The winemakers, Matthieu and Bruce, monitor it along the way for flavor and body so that's it tastes just right when it gets to your glass!